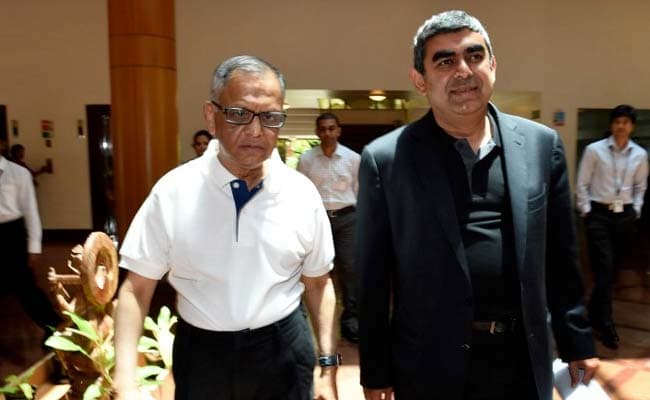 Highlights
Infosys founders allege lapses in corporate governance
Board backs Infosys CEO Vishal Sikka
'Good people (on board) but they must correct mistakes': Murthy to NDTV
Infosys co-founder and former chairman NR Narayana Murthy today said the company's board must address concerns raised by him about alleged lapses in corporate governance. "No, I have not withdrawn my concern. They have to be addressed properly by the Board and full transparency should be displayed and people responsible for it should become accountable," Mr Murthy told NDTV. Media reports had earlier today quoted Mr Murthy as saying that he does not want to escalate a confrontation with the board. Mr Murthy and other co-founders have flagged worries over issues like a hike in CEO Vishal Sikka's compensation and big severance pay given to former executives.
Here are the 10 latest developments in this story:
Mr Murthy told NDTV that members of the Infosys board are "all good intentioned people of high integrity but obviously being human even good people sometimes make mistakes. This is one such case."

He said "good leadership demands that they listen to all concerned shareholders, re-evaluate their decision and take corrective action. I hope they take corrective action soon and improve governance for a better future for the company."

The board of Infosys, India's second biggest software services exporter, has refuted the allegations and Mr Sikka has tried to downplay the row. "My relationship with the founders? It is wonderful. I meet Mr Murthy quite frequently...I have always had a heartfelt warm relationship with Mr Murthy, probably meet him 4-5-6 times a year," the Infosys CEO said, speaking at a conference in Mumbai.

"All this drama that has been going on in the media, it's very distracting - it takes away attention - but underneath that there is a very strong fabric that this company is based on and it is a real privilege for me to be its leader," the CEO said in Mumbai.

Bloomberg had earlier today quoted Mr Murthy as saying, "Let me stop. I have made a point, paying such large sums of money is confusing. Now they have to sort it out...I felt that I don't want it to snowball. I don't have the time. Neither should the board and the management be spending time on it."

Infosys had said last week said in a statement that "the board is fully aligned with the strategic direction of Dr. Vishal Sikka and is very appreciative of the initiatives taken by him in pursuance of this transformation." The statement was issued by R Seshasayee, Infosys board chairman. The IT company said its founders and board could have differing views on issues such Mr Sikka's compensation, the appointment of certain independent directors and the severance paid to former employees but all decisions were taken with the approval of shareholders and the necessary disclosures.

Calling for the resignation of Infosys chairman R Seshasayee, former chief financial officer V Balakrishnan said last week that communication between important shareholders and the board has broken down and the board should be reconstituted and all concerns should be addressed.

Infosys' three founders and shareholders Mr Murthy, Kris Gopalakishnan and Nandan Nilekani have objected to executive pay in the company including a raise for Mr Sikka, whose annual compensation, including variable components, was raised by over 50 per cent to $11 million (Rs 74 crore) from $7 million (Rs 47 crore) last year. Mr Sikka took over as CEO in 2014.

Former chief financial officer Rajiv Bansal's severance package amounted to Rs 17.38 crore ($2.58 million), or 24 month's pay, Infosys said in a statement last year. In a January filing with the US market regulator, Infosys, which is also listed on Nasdaq, said former general counsel David Kennedy would receive severance payments of Rs 5.8 crore or $868,250 and other reimbursements over 12 months.

Kiran Mazumdar-Shaw, an independent director, who had earlier said that it was incorrect to equate the current developments at Infosys with the allegations of lapses in corporate governance at the Tata Group, in a tweet today said, "It could have been moderated in hind sight." She was referring to the severance package given to former chief financial officer Rajiv Bansal.
It could have been moderated in hind sight. https://t.co/Ocqa5zbzv5

— Kiran Mazumdar Shaw (@kiranshaw) February 13, 2017
Post a comment