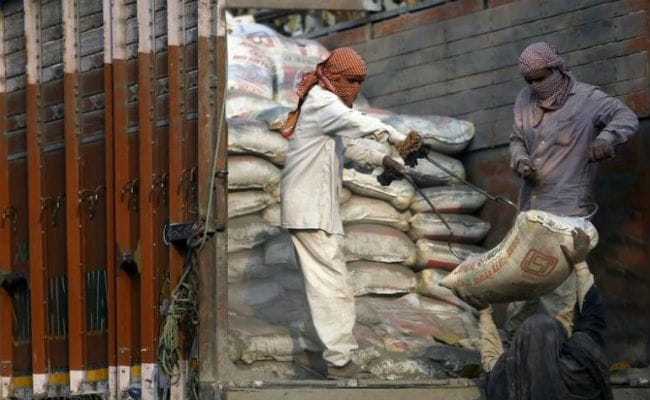 New Delhi:
Competition Commission today imposed nearly Rs 206 crore penalty on seven cement companies for bid-rigging and cartelisation.
Shree Cement, UltraTech Cement, Jaiprakash Associates, J K Cement, Ambuja Cements, ACC and J K Lakshmi Cement have been penalised for violating competition norms with regard to a tender floated by a Haryana agency back in 2012.
Among others, SMS and calls made among the officials of the cement officials during the particular period also confirmed collusion, according to the regulator. This is not the first time that cement companies have come in the crosshairs of Competition Commission of India (CCI).
Earlier too, the watchdog had imposed fine on cement firms for anti-competitive business practices.
In a 120-page order, CCI said the seven companies violated competition norms and also directed them "to cease and desist" from such activities.
After careful consideration, the regulator decided to slap penalties on the companies that is equivalent to 0.3 per cent of each of their average turnover for three financial years. The total fine amounts to around Rs 206 crore.
UltraTech has been directed to pay a fine of Rs 68.30 crore while that on Jaiprakash Associates is Rs 38.02 crore. The fine on others are -- Shree Cement (Rs 18.44 crore), J K Cement (Rs 9.26 crore), Ambuja Cement (Rs 29.84 crore), ACC (Rs 35.32 crore) and J K Lakshmi Cement (Rs 6.55 crore).
The order has come on a complaint filed by Director, Supplies and Disposals, Haryana -- a procurement agency. It was alleged that the cement makers formed a cartel and quoted higher bid prices for a tender floated in 2012. CCI had ordered a detailed probe into the matter in 2014.
CCI has held that the cement companies, through their impugned conduct, have engaged in bid-rigging that eliminated and lessened competition.
The bid-rigging has been established from quoting of unusually higher rates in the impugned tender and determining different basic prices for supply of cement at the same destination through reverse calculation, among others. "The anti-competitive conduct was re-affirmed through SMS exchanged and calls made amongst the officials of the cement companies," CCI said in a release.
While imposing penalties, the regulator took note of potential delay which would have occurred in the execution of public infrastructure projects due to cancellation of the impugned tender.
"At the same time, due consideration was given to factors such as peculiarity of the tender process which created uncertainty in procurement, total size of the impugned tender and competition compliance programmes put in place by some companies while determining the quantum of penalty," it added. In August 2016, CCI had slapped a penalty of over Rs 6,700 crore on 11 cement firms, but the order was stayed following an appeal before the Competition Appellate Tribunal.
(This story has not been edited by NDTV staff and is auto-generated from a syndicated feed.)