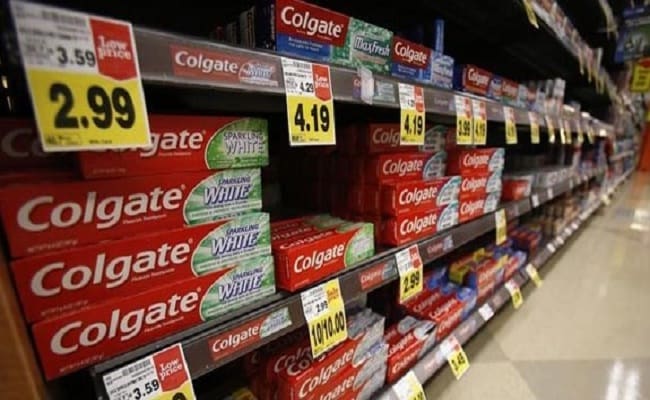 Shares of fast-moving consumer goods (FMCG) companies like
Colgate-Palmolive
,
Marico
and
ITC
surged on Friday, a day after the Goods and Services Taxes or GST Council finalised a lower rate for goods including hair oil, toothpaste, edible oil, tea and coffee. Shares of toothpaste maker Colgate-Palmolive gained as much as 7 per cent to hit an intraday high of Rs 1,044.95, as toothpastes are going to be taxed at a rate of 18 per cent under GST compared to current rate of 22-26 per cent including various state and central levies. Colgate-Palmolive is the biggest toothpaste manufacturer in India with a volume market share of 55.1 per cent in FY17.
Mayuresh Joshi, fund manager at Angel Broking, told NDTV Profit: "Colgate incidentally has a significant market share at this point of time. If they are able to expand that even by a few basis points...the numbers will play out very meaningfully... The positives are there for Colgate over the long term."
Meanwhile shares of Marico, which manufactures popular hair oil brands like Parachute and Hair & Care, jumped over 4 per cent to Rs 320.25. The GST Council has agreed upon a rate of 18 per cent on hair oil. Hair oils are currently taxed at 22-26 per cent.
Domestic brokerage Edelweiss said that "since input tax credit is currently available, a lower GST rate will result in lower blocking of funds in working capital", which is positive for FMCG companies.
Mr Joshi further said: "The advantage that these companies (FMCG) have is going to be on volumes and operating leverage... As tax-compliance increases and as pricing comes down in terms of toothpastes and toothbrushes, volume growth can be substantial."
ITC's shares jumped more than 6 per cent to hit an intraday high of Rs 295.65. Cigarette maker ITC's shares were in focus as market participants looked for clarity over tax on tobacco under the new indirect tax regime, analysts said.
Speaking on ITC, Mr Joshi said the markets have to a large extent discounted the expected sin tax.
With no significant increases expected on cigarettes once GST kicks in, a potential upside is left in ITC shares, he added.
Colgate-Palmolive
shares closed 3.71 per cent higher at Rs 1,016.60,
ITC
settled with a gain of 2.98 per cent at Rs 286.2 and
Marico
closed up 1.21 per cent at Rs 309.30, outperforming the Nifty which ended flat on Friday.