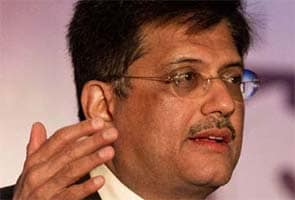 New Delhi: Coal and Power Minister Piyush Goyal on Thursday said that Coal India Ltd (CIL) trade unions have assured the government that they will try to make up for the loss in production of about one million tonnes on account of a workers strike which was called off the previous day.
"They have assured me that they will be part of mission 100 crores tonnes (Coal India's production by 2019-20) and they have assured me that they will make up for the loss of production of about a million tonne," Mr Goyal said.
He said this while presenting the report card on the first 200 days of the working of the ministries of coal, power and renewable energy.
Coal workers had on Wednesday night called off a five-day nationwide strike after two days following government intervention.
Mr Goyal said that the unions have also assured complete cooperation in the future as well.
"At the outset nobody is divided. All five of them (trade unions) sat with us. We had a very healthy exchange of views, ideas, discussions...I believe that all five unions have gone back satisfied that the steps being taken by the union government are in the interest of the nation, are in the interest of workmen of Coal India Ltd," he said.
He stated that the discussion with the unions were very fruitful and healthy and added, "I see before me a very bright future for Coal India."
The government had last night assured trade unions that CIL will not be privatised and the employees' interest will be protected.
Nearly five lakh coal workers had gone on a strike on Tuesday after five major trade unions including the Bharatiya Mazdoor Sangh gave a call for the biggest ever industrial action in four decades against what they called attempts for "disinvestment in Coal India and denationalisation of coal mining".
"There is no intention of denationalisation of CIL. The present and future interest of CIL employees will not be affected in any manner. CIL will be protected and there need be no apprehension about its ownership or management going into private hands," Mr Goyal had said on Wednesday.
The five-day strike was called off midway after Mr Goyal assured the union leaders that the government will look into their concerns and will form a committee, headed by a joint secretary that will have representation from all five trade unions and officials of CIL and Singareni Collieries Company Ltd.
Stating that the issues with the worker unions have been resolved "amicably", Mr Goyal said the government has conveyed it to the unions that the country cannot be contended with a production of 600 million tonnes.
He said the nation needs to achieve an output of at least 3 billion tonnes in the next 10 years.
The minister also said that the government was taking steps for better evacuation of coal and tripling the coal explorations in another two years.
Of the 1.6 billion tonnes of the coal output that the government is targeting by 2020, one billion tonne would come from Coal India and rest 600 million tonnes from private sector and others, he added.