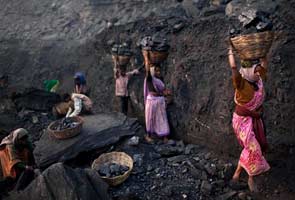 Battling on various fronts to boost production, Coal India Ltd, the world's largest miner, may miss its production for the ongoing fiscal year (FY14) by about 12 million tonnes as it struggles to achieve at least 470 million tonnes of output.
The state-owned firm had fixed a target of 482 MT for financial year 2013-14.
"As per estimates, we are likely to achieve an output of 470 MT for the fiscal as a number of factors have resulted in less output. We may miss the target by more than 10 MT," Coal India chairman and managing director S Narsing Rao told PTI.
Mr Rao attributed the projected production loss to a number of factors, including delays in securing clearances to CIL projects, cyclone Phailin and problems in evacuation among others.
"Production was hit by 5 MT due to cyclone Phailin. Besides, many of our projects are delayed due to regulatory hurdles including forest clearances. There are law and order issues also, and in July and August the demand was less from consumers and we cannot store coal at open case mines," he said.
The PSU's coal executives strike on March 13, too, caused an output loss to the tune of 4 lakh tonnes.
The Coal India chief also cited infrastructure problems, saying "there is virtually no significant progress" in the critical rail links due to which the company was unable to tap the potential for supplying 300 MT.
"The company has a potential to supply 300 MT of additional coal from some of the collieries but these lack crucial rail infrastructure for transporting it," he reiterated.
"Under the circumstances, we are in a position to increase our annual growth to only 30 MT for the next few years."
If three rail links are fast-tracked, the company will ensure and additional supply of 300 MT to consumers. Three rail corridors are: Tori-Shivpuri-Kathotia in North Karanpura, Jharkhand; Bhupdeopur-Korichhaapar to Mand Raigadh mines in Chhattisgarh; and Barpali-Jharsuguda in IB Valley, Odisha, which are under different phases of development.
A high-level inter-ministerial committee constituted by the Prime Minister's Office is looking into the issue of faster implementation of critical railway projects in potential coalfields.
The Cabinet Committee on Infrastructure had also agreed to monitor the progress of the three rail links critical for transporting coal from CIL mines located in Odisha, Jharkhand and Chhattisgarh.
As per the information, the difficulties being faced in executing these three projects, entailing Rs 7,500-crore expenditure, relate to forestry and environment clearances besides land acquisition, rehabilitation/resettlement as well as law and order problems.
The government had earlier said that two rail projects, including Tori-Shivpur, are likely to be completed by the end of 2017 and will facilitate coal evacuation besides pushing up the production of the fuel.
The demand-supply gap of coal is likely to widen to 185.5 MT in 2016-17. The country had to import a record 135 MT coal last year to meet domestic requirement.
Battling low production, CIL has earmarked Rs 24,500-crore capital expenditure over the next few years mainly to boost capacity and is also looking at spending another Rs 14,500 crore to augment rail infrastructure.
CIL, which accounts for over 80 per cent of the domestic production, contributed 452.5 MT of coal in 2012-13 as against the target of 464 MT.