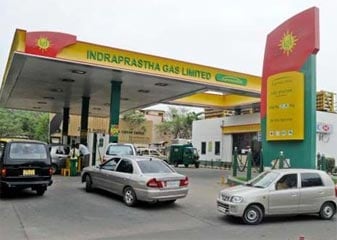 New Delhi:
The price of compressed natural gas (CNG) in the national capital was on Friday reduced by a steep Rs 14.90 per kg, while that of piped natural gas (PNG) was lowered by Rs 5 per unit.
The revised prices will take effect from Saturday.
CNG will cost Rs 35.20 per kg from Saturday as against the current rate of Rs 50.10 per kg.
Rates of cooking gas piped into kitchens, or PNG, that households use for cooking was cut by Rs 5 per standard cubic meters (scm) per day. This is the first reduction in fuel rates in almost six years. CNG price was decreased in March 2008 when prices were cut by 30 paise following a reduction in excise duty.
However, this may be a temporary relief as domestic natural gas prices will almost be doubled to $8-8.2 from April 1. The rate hike may translate into a CNG price increase of Rs 10.6 per kg and PNG rates of Rs 8/scm.
PNG rate cut was for both the consumption slabs.
Simultaneously, Indraprastha Gas Ltd - the firm that retails CNG and PNG in the national capital region - announced a 20 per cent increase in quantity in the lower consumption slab.
Consumer price of PNG to households in Delhi in the lower slab is being cut from Rs 29.50 per scm for consumption up to 30 scm in two months to Rs 24.50 per scm for consumption of up to 36 scm in two months with effect from February 8, 2014.
In the higher slab, for consumption beyond 36 scm in two months, the applicable rate in Delhi would be Rs 47/scm, which was earlier Rs 52/scm beyond consumption of 30 scm in two months.
The rate cut follows oil ministry's decision to give city gas distribution firms cheaper domestic gas to meet all their needs for CNG and PNG supplies compared to the previous limit of 80 per cent for most states.
As a result, CNG price in Noida, Greater Noida and Ghaziabad has been cut by Rs 16.5 per kg to Rs 40.15 per kg.
Due to differential tax structure in Uttar Pradesh, the applicable price of domestic PNG in the lower slab to households in Noida, Greater Noida and Ghaziabad would be Rs 26.20/scm up to consumption of 36 scm in two months. This has been reduced from existing Rs 31/scm for consumption up to 30 scm in two months.
In the higher slab, for consumption beyond 36 scm in two months, the rate applicable in these cities would be Rs 47.65/scm. This was earlier Rs 54/scm beyond consumption of 30 scm in two months, IGL said in a statement.
Announcing the reduction in prices of CNG and domestic PNG, IGL managing director Narendra Kumar said, "Subsequent to the increase in our domestic gas allocation to meet the full requirement for CNG and domestic PNG by the government, IGL has decided to pass on the entire benefit to its esteemed consumers by reducing the consumer prices."
Thanking the government for ensuring that all city gas distribution (CGD) companies get their full requirement from domestically produced gas, he said that this step would reduce the cost of commuting for the public apart from contributing to the environment.
With the revised price, CNG would offer 65 per cent savings towards the running cost when compared to petrol driven vehicles at the current level of prices.
When compared to diesel driven vehicles, the economics in favour of CNG at revised price would be 36 per cent, the statement said.
IGL, a joint venture of state-owned gas utility GAIL India, refiner Bharat Petroleum Corp (BPCL) and Delhi government, is currently catering to nearly 7,50,000 CNG vehicles in the national capital, which include nearly 4,50,000 private cars.
The 30 per cent reduction in CNG prices will have a major impact on per km running cost of CNG run vehicles.
"For autos, the per-km running cost will come down by 43 paise per km, while for taxis, it would reduce by 72 paise per km. In case of buses, the running cost will decrease by over Rs 4.25 per km," it added.