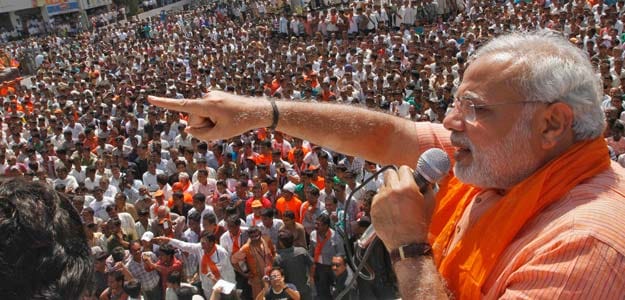 Asia-Pacific focused brokerage CLSA said on Friday that the current crisis in financial markets could trigger an improvement in governance in India.

The Hong Kong-based brokerage linked the fate of the volatile rupee to the political prospects of Narendra Modi, widely expected to be named the BJP's candidate for Prime Minister in next year's general elections.

Analyst Christopher Wood wrote in his weekly column, "Greed & fear's view is that the worse the sense of crisis the better Modi's chance of winning."


He also said, "The Indian stock market's greatest hope is the emergence of Gujarat Chief Minister Narendra Modi as the BJP's prime ministerial candidate."
Wood's 'Greed & fear' reviews global markets and economies and is widely followed by investment professionals and the media.
The BJP is yet to make formal announcement that Mr Modi, also the chief Minister of Gujarat, will be its face in 2014. As the party's campaign committee chairman, he is currently designing the BJP's election strategy with the help of top party leaders.
CLSA's comments come as the Indian rupee, which has fallen over 20 per cent since the start of May, continues to slide. The rupee's weakness has now spilled over into other financial markets such as stocks and bonds. The Sensex has fallen nearly 1,000 points this week as the rupee hit a record low of 65.56 yesterday.
The government has been unable to spell out a concrete plan or take effective steps to stem the bleed and reverse negative sentiments.
The Reserve Bank of India's intervention and curbs on outflows from companies and individuals have proved very temporary measures and traders remain pessimistic despite the huge selloff even as the government continues to stick to its guns that the panic is overdone.
India's problems are most self-inflicted in terms of the continuing lack of an investment cycle and a growing currency crisis, CLSA said, adding the Reserve Bank of India's tightening moves in July clearly backfired in large part because of misguided communication and conflicting signals.
The brokerage also said that India remains the Asian market most at risk of a sovereign debt crisis.
India is currently rated BBB-, which is the last rung on the rating ladder above so-called "junk" status that mainstream investors tend to steer clear of.
The brokerage said there could be further downsides in quality stocks, where FIIs have so far not sold their holdings in the relatively 'quality names'.