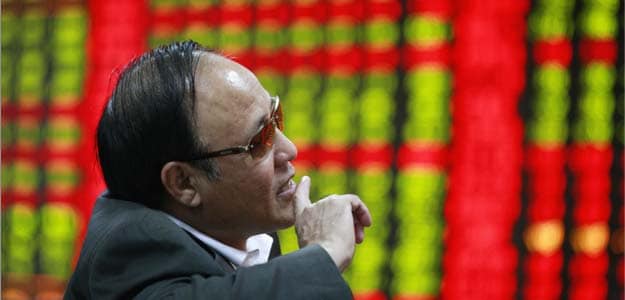 Beijing:
China's export growth rebounded surprisingly sharply in December to a seven-month high, in a strong finish to the year for an economy that had slowed for seven quarters, but the spike may not herald an enduring recovery as global demand stays subdued.
The murky trade outlook contrasts with data that showed resilient local loan demand, which supported hopes that the world's second-largest economy rebounded towards 8 percent in the final quarter of 2012 on firming domestic demand and as the nation undertook a once-in-a-decade leadership change.
China's export growth rebounded surprisingly sharply in December to hit a seven-month high, supporting expectations of a pick-up in growth after seven quarters of slowdown, but the spike may not herald an enduring recovery as global demand stays subdued.
A broad measure of credit growth also expanded strongly, adding to evidence that annual growth in the world's second-largest economy rebounded towards 8 percent in the final quarter of 2012, which coincided with a once-in-a-decade leadership transition at the head of the ruling Communist Party.
Data on Thursday showed the value of China's exports grew 14.1 percent last month compared with a year earlier, racing past the forecasts of analysts polled by Reuters, who had expected annual growth of 4 percent.
Economists said the pick-up in exports growth from November's 2.9 percent rise was likely accentuated by lower comparison figures a year ago and exporters clearing year-end orders, factors that do not suggest a sustainable turnaround.
China's customs office, which released Thursday's data, agreed.
"China trade still faces uncertainties in 2013," said Zheng Yusheng, a spokesperson for the customs office. "But we expect the trade situation will be relatively better compared to 2012."
Data showed the value of imports grew 6 percent on the year in December, also handily beating market forecasts for a 3 percent rise and quickening from zero growth in November.
But December's strong trade performance was not enough to help China meet its import and export growth targets for 2012,
underlining that exports have been the biggest drag on China's economy over the past two years.
For 2012, China's exports grew 7.9 percent and imports were up 4.3 percent, both well under their 10 percent target.
"At the year-end, exporters tend to respond quickly to increases in external orders. The temporary rise could be a result of some seasonal factors that resulted in the spike," said Ma Xiaoping, economist at HSBC in Beijing.
"If you look at the fundamentals of U.S. and Europe, this could be a temporary rise. In coming years, we expect export growth to remain at a low level, below 10 percent for 2013."
Still, financial markets were buoyed by the strong data. Asian shares rose immediately after the trade figures were released and the Australian dollar, sensitive to the strength of the economy in the biggest customer for its iron ore and other resources, popped higher.
SHADOW BANKING BOOM
The trade numbers followed credit and money supply data that pointed to resilient demand for loans in China.
Data from the central bank earlier on Thursday showed China's M2 measure of money supply growing 13.8 percent in December from a year earlier, broadly in line with market expectations for a 14 percent rise.
Banks were shown lending 454.3 billion yuan of new yuan loans in December, missing market expectations for a 550 billion yuan rise. But for the year, 8.2 trillion yuan of loans were disbursed, exceeding an undisclosed target of 8 trillion yuan.
Growth in alternative financing outside banks was even stronger, in a sign that Chinese firms now enjoy greater financing options, analysts said.
The central bank said China's total social financing aggregate, a broad measure of liquidity in the economy, jumped 23 percent from a year ago to 15.8 trillion yuan in 2012.
Corporate bond sales and trust loans led the way in alternative financing. Bond issuance climbed 884 billion yuan to 2.25 trillion yuan last year, while trust loans hit 1.29 trillion yuan in 2012, up 1.09 trillion yuan from 2011.
"Robust system-wide credit growth lends support to our view that gross domestic product growth could rebound to 7.8 percent year-on-year in the fourth quarter," said Ting Lu, an economist at Bank of America-Merrill Lynch.
SOFT TRADE
China's economy has been trapped in its worst downturn in three years, growing 7.4 percent between July and September to mark the seventh consecutive quarter of slowing growth.
But analysts are hopeful that a gentle recovery is imminent. A Reuters poll showed economists expect data out next week to show China's economic expansion picked up slightly in the fourth quarter to hit 7.8 percent.
The gradual rebound would be led by strengthening domestic demand, economists say, with trade remaining an Achilles' heel.
Europe, mired in its debt crisis and a recession, has posed the strongest headwinds to China's trade sector. Bilateral trade with the European Union fell 3.7 percent in 2012 from a year ago even though export sales recovered in December.
On an annual basis, exports to the European Union climbed 1.9 percent last month in their first rise in seven months.
Shipments to the United States, which overtook Europe as the top buyer of Chinese goods this year, also improved in December to rebound 9.6 percent, reversing from a 2.6 percent drop the month before.
"We're hitting a low base for the next several months, so that means the headline will be looking OK for December and for the first quarter," said Kevin Lai, an economist at Daiwa in Hong Kong.
"I suspect that smartphone shipments were still quite strong into December given new launches that month. The picture is still more mixed regionally."
Exports from South Korea unexpectedly fell last month, though the government blamed the poor performance on fewer working days.
Exports from Taiwan, on the other hand, surpassed expectations to rise to three-month highs, although analysts warned that shipments may have been lifted by the year-end shopping season.
China's trade sector, a key part of the economy that supports an estimated 200 million jobs.
Net exports from China have subtracted from growth in its gross domestic product (GDP) since March 2011, and had shaved 0.4 percentage points off GDP expansion in the third quarter.
With Europe expected to sink deeper into recession this year, analysts say it is another difficult year for Chinese trading firms.

Copyright @ Thomson Reuters 2013