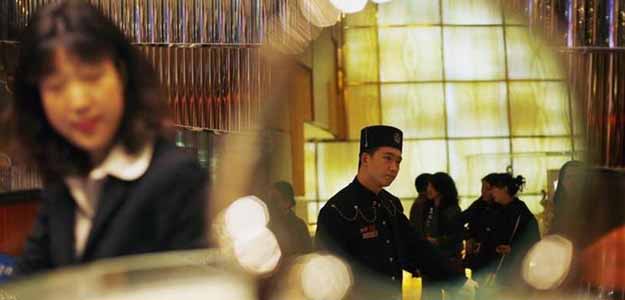 Beijing: Growth in China's services sector weakened slightly in September as new business cooled, a private survey showed on Wednesday, reinforcing signs of a slowdown in the world's second-largest economy that could prompt more stimulus measures.
The services purchasing managers' index (PMI) compiled by HSBC/Markit pulled back to 53.5 in September from a 17-month high of 54.1 in August.
A reading above 50 in PMI surveys indicates an expansion in activity while one below that threshold points to a contraction.
A sub-index measuring new business fell to 53.2 in September from a 19-month high of 53.9 in August, but sub-indexes measuring employment and outstanding business both inched up, painting a mixed picture.
"Overall, the services sector held up in September, despite the downward pressure seen in the manufacturing sector. We think risks to growth in the near term are still on the downside, and warrant accommodative monetary as well as fiscal policies," said Qu Hongbin, chief China economist at HSBC.
An official survey released last week showed that the services sector grew at its slowest pace in eight months in September after new orders shrank for the first time since the 2008 global financial crisis, exposing more weakness in the world's second-largest economy.
The services sector made up 46.1 per cent of gross domestic product in 2013, surpassing the secondary sector - manufacturing and construction - for the first time, as the government aims to create more jobs and boost domestic consumption.
Downside risks
Last week, a pair of surveys showed China's manufacturing sector held up in September but remained subdued in a sign that the economy is still struggling to recover its growth momentum -despite recent policy support.
Steps unveiled since April included reserve requirement cuts for selected banks and faster investment in railways and public housing. But much of their broader impact may have been offset by a cooling property market and tighter credit as banks grow more cautious about lending as the economy cools.
In a bid to avert a deeper slide in the housing market, China's central bank and banking regulator relaxed lending rules for second-home buyers on September 30 by giving them a 30 per cent discount on mortgage rates and cutting their down payment levels to 30 per cent from 60-70 per cent.
"We think the easing lending condition is more impactful compared with unwinding of previous housing purchase restrictions. As such, we expect the systemic risk arising from property sector to be contained," OCBC said in a research note on Wednesday.
Other economists are not so sure. A glut of unsold and unoccupied homes and buyers' expectations of further price declines could temper any rebound.
The central bank said on Sunday it will use various monetary tools to maintain adequate liquidity and reasonable growth in credit and social financing.
Analysts expect more policy measures will be needed to help achieve the government's growth target of around 7.5 per cent this year, although any dramatic stimulus looks unlikely as reform-minded top leaders have shown greater tolerance for slower growth.
The government is due to release September data on trade, bank lending, investment and factory output in the coming week or so, leading up to third-quarter GDP on October 21
"The upcoming September data release will likely show a tentative improvement in real economic activity, but unlikely be
strong enough to prevent full third-quarter growth from falling to 7.1 per cent year on year, adding pressure on the government to further intensify policy support," Tao Wang, China economist at USB, said in a note.
The economy expanded by 7.5 per cent in the second quarter on-year.
Copyright: Thomson Reuters 2014