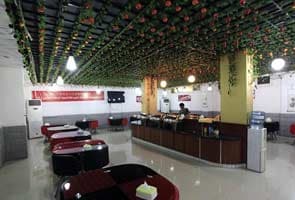 Beijing:
China's services sector grew at its slowest pace in eight months in September after new orders shrank for the first time since the 2008 global financial crisis, a survey showed on Friday, exposing more weakness in the world's second-largest economy.
The official non-manufacturing Purchasing Managers' Index (PMI) edged down to 54.0 in September from 54.4 in August, the National Bureau of Statistics said, but still well above the 50-point mark demarcating growth on the month from a contraction.
In a sign that China's cooling property market remained a key drag on the economy, the PMI showed the real estate sector shrank in September, alongside other industries such as logistics and aviation.
Lacklustre activity in the housing sector weighed on overall new orders, which fell to 49.5, a level not seen since December 2008 and down from 50 in August.
"The 'Golden September' peak season in the property sector did not materialise. The market tracked a weak trend and activity was on the subdued side," said Wu Wei, an official at the China Federation of Logistics and Purchasing, which helps to publish the PMI.
Friday's data raised questions about whether China's move this week to cut mortgage rates and downpayment levels for some home buyers would be enough to revive its sagging housing market and rejuvenate its sputtering economic momentum.
Indeed, the PMI showed the property, aviation, catering and environmental protection industries all took in fewer orders last month.
Overall slack caused employment in the sector to shrink for the third consecutive month as a sub-index for jobs inched down to 49.5 from 49.6 in August.
Services made up about 46 per cent of China's economy in 2013, having overtaken manufacturing as the country's biggest employer in 2011. The government hopes to grow the sector further to overtake manufacturing as the bigger engine of the economy.
Copyright: Thomson Reuters 2014