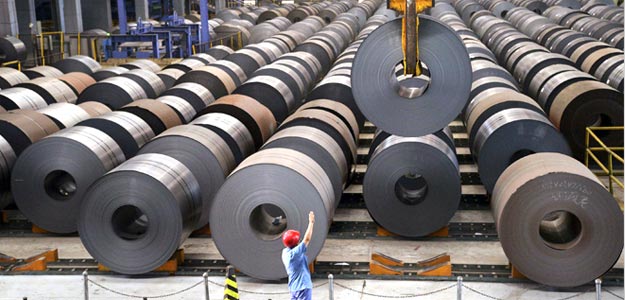 Beijing:
China's factory activity fell to a more than 6-year low in September while growth in the once-resilient services sector came close to stalling, private surveys showed, fueling fears that the economy may be slowing more sharply than expected.
The services sector has been the lone bright spot in the world's second-largest economy, helping to offset stubbornly weak factory performance, but it too has begun to show signs of fatigue in recent months, putting global financial markets on edge.
Factory activity shrank to 47.2 in September, the lowest reading since March 2009 and slightly weaker than 47.3 in August, the final Caixin/Markit China Manufacturing Purchasing Managers' Index (PMI) showed on Thursday.
A similar survey for services fell for a second consecutive month to 50.5, its lowest since July 2014 and barely above the 50-mark which separates contraction from growth on a monthly basis. The August reading was 51.5.
"This indicates the continued weakness of the manufacturing industry, though the pressure driving the sector's decline has eased," said He Fan, Chief Economist at Caixin Insight Group.
"Tepid demand is a main factor behind the oversupply of manufacturing and why it has not recovered," said He.
Despite a steady stream of government stimulus measures over the last year, including five interest rate cuts since November, factory activity in China has now shrunk for seven straight months, and more weakness is expected despite heading into what should be the peak year-end shopping season.
New export orders fell at a faster rate in September, sliding to 44.6 - a low not seen since March 2009 - and well below August's 46.6.
The overall new orders sub-index, a proxy for domestic and external demand, saw its sharpest contraction since August 2012.
A summer plunge in China's stock market and a surprise devaluation in the yuan last month have roiled global markets, and raised doubts inside and outside China over Beijing's ability to manage its economy.
Still, most independent analysts, do not believe the economy is heading for a hard landing just yet. Many economists forecast a gradual though at times bumpy slowdown as Beijing tries to overhaul its old 'heavy industry and export' model into a more nimble one which is more reliant on services and stronger consumer spending.
JOBS PICTURE GETTING MURKIER
The health of the labour market could be key in determining how much more stimulus authorities will deploy in coming months.
With sales weakening, manufacturers shed jobs for the 23rd month in September and at the fastest pace since January 2009.
Companies in the services sector, however, continued to hire. Despite a softening in new orders, their business expectations remained high.
Tens of millions of Chinese were thrown out of work during the last global crisis, alarming the stability-obsessed Communist Party. The current downturn has not produced evidence of mass layoffs so far, though tales abound of "zombie" factories keeping workers on payrolls at subsistence wages.
China is due to release third-quarter GDP data on Oct 19, and many economists expect growth to dip to below 7 percent, which would be the slowest performance since the global financial crisis.
Many market watchers suspect current growth is already much weaker than official data suggest, pointing to weak electricity usage, sluggish freight volumes and the growing number of Western firms reporting flagging China sales.
Official data released by China earlier on Thursday showed factory activity shrank for a second month, while services growth held steady from August.
The official data focuses on larger, state-owned firms, while the private survey tends to concentrate on small-and mid-sized companies which are facing more financial strains.
© Thomson Reuters 2015