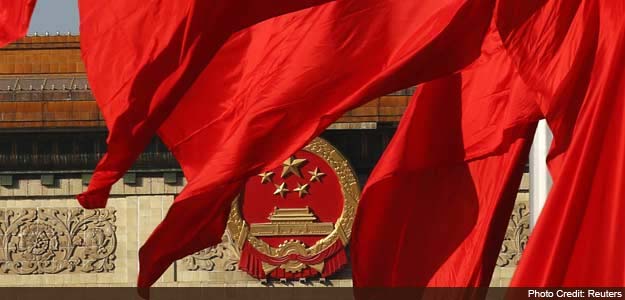 Hong Kong: China signaled fresh concerns about its slowing economy as the country's central bank moved Wednesday to stimulate growth by freeing up more money for banks to lend.
The action reflects the growing uncertainty in the global economy. Central banks around the world are grappling with how to respond to falling oil prices, low inflation, volatile currencies and tepid demand.
In recent weeks, India, Australia, Singapore, Canada and Denmark have all turned to monetary tools to address weaknesses in their economies. The European Central Bank last month unleashed a major stimulus program aimed at stoking a return to moderate inflation and rekindling growth.
China is dealing with a slowdown, as its economy last year grew 7.4 percent, its lowest rate since 1990. Real estate and heavy industry, like steel production, have been the biggest brakes on the country's growth. Real estate prices have been gradually falling since last spring, and while the pace of the decline has begun to slow, construction has lost momentum. That has contributed to a sharp drop in steel prices in China in the last several weeks. While the drop to some extent reflected the halving of iron ore prices last year, the price decline was also a warning sign of very weak demand.
Taking aim at such worries, the People's Bank of China on Wednesday reduced the share of assets that commercial banks must hold as reserves. Doing so gives institutions more leeway for lending, which is particularly beneficial to real estate and industry.
Homebuyers, for example, consider the availability of mortgages and the interest rate on them before deciding whether to make a purchase. Developers have borrowed heavily as well, and need to be able to keep obtaining new loans to repay previous loans.
Steelmaking and auto manufacturing require large initial investments, typically financed with borrowed money. Plus, buyers of steel and cars frequently need bank loans for purchases.
The Chinese central bank reduced its required reserve ratio by half a percentage point. The ratio varies by financial institutions, but for big commercial banks this means a reduction to 19.5 percent, from 20 percent.
"The People's Bank of China will continue to implement a prudent monetary policy maintained to an appropriate degree, guide monetary credit and social financing to steady moderate growth, and promote the smooth operation of economic health," the bank said in a statement announcing its decision.
The central bank is stepping up an existing effort to stimulate the Chinese economy. The People's Bank of China decided in November to lower its benchmark one-year deposit rate 0.25 percentage point, to 2.75 percent, and reduce the one-year lending rate by 0.4 percentage point, to 5.6 percent.
But the policies could create other challenges for the country. An increase in lending could further drive a stock market rally that has been propelled mainly by small investors who have borrowed money to buy stocks. Regulators have already tried to reduce the risk of a bubble popping by tightening some limits on such margin trading.
The central bank's move could also fuel China's propensity for credit-driven growth.
Easy lending policies by state-controlled banks, particularly as China sought to avoid the effects of the global financial crisis, have left a long list of industries bedeviled by severe overcapacity, falling prices and little or no profit - and scant ability to repay bank loans. Fearing that additional lending could result in even more nonperforming loans, the central bank has periodically tried to signal tighter monetary policies, only to face overwhelming pressure from other government agencies for easier credit to prevent the economy from slowing further.
Reducing the reserve ratio means that banks will be allowed to park less money at the central bank, where it earns negligible interest, and will lend it instead. The greater availability of loans is likely to push down interest rates, which in turn will make it less attractive to invest in China's currency, the renminbi.
That could result in further weakening of the renminbi, which would make Chinese goods even more competitive in foreign markets, while making imports more expensive in China. In the United States, many Democrats and some Republicans in Congress have called over the years for China to be confronted on what they describe as the deliberate undervaluation of the renminbi to help Chinese exports.
Economists at Standard Chartered predicted in a research note Wednesday evening that the renminbi would not decline immediately, because some investors would hold it in the hope that the central bank's action would help pick up the tempo of economic growth. But with the dollar strong, and the central bank limiting its intervention in those markets, the renminbi could later weaken, the economists said.
Economists at UBS pointed out in a research note Wednesday night that the central bank to some extent needed to reduce the reserve ratio to offset the investment money now flowing out of China.
An estimated $160 billion left the country in the fourth quarter alone, more than in the previous three quarters combined. Faced with slowing growth at home, wealthy Chinese have been investing more of their money offshore, particularly seeking to profit from the strengthening U.S. economy and dollar. That has reversed the pattern of most of the last decade, when investors were trying to put more money into China.
When the money was previously flooding into China, the central bank used to issue hundreds of billions of extra renminbi annually to buy dollars. Foreign exchange reserves peaked at $3.99 trillion last June, before edging down to $3.84 trillion by December as the tide of capital began to flow in the other direction.
With the central bank no longer issuing such a torrent of renminbi, credit has tightened somewhat. The lowering of the required reserve ratio, UBS said, is needed to offset that pullback.
For mostly small banks that lend heavily to small businesses, certain water conservation projects and farmers, the central bank cut the requirement by an additional half-point. The reserve ratio was cut by an extra 4 percentage points for the Agricultural Development Bank of China, an arm of the central bank whose mission is to help rural areas.
The change is set to take effect on Thursday, allowing time for commercial banks to supply extra money to the economy before the Lunar New Year holiday, which starts two weeks later.
The days leading up to the Lunar New Year celebrations are often characterized by heavy spending on parties and gifts. The central bank commonly injects extra money into the financial system to accommodate this - although it usually chooses less drastic measures to do so, like short-term loans to commercial banks.
"Liquidity typically tightens ahead of Chinese New Year, which may explain the timing of this decision," wrote Mark Williams, the chief Asia economist in the London office of Capital Economics, a research firm.
© The New York Times Company 2015