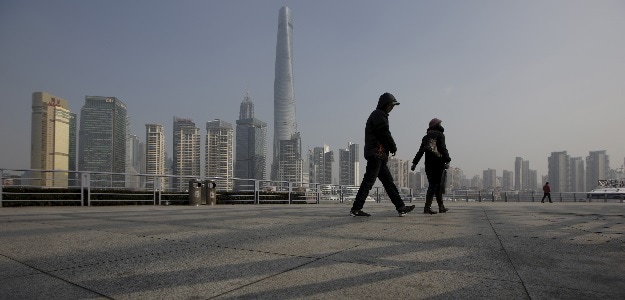 Beijing
: China's economic growth will decline to 6.7 per cent this year and further contract to 6.5 per cent next year owing to deceleration in the real estate and manufacturing sectors in the world's second largest economy, the World Bank forecast on Monday.
The Chinese government, which has initiated 13th five year plan this year, has fixed the GDP growth target between 6.5 per cent and 7 per cent for the economy which grew at 6.9 per cent last year.
The Asian Development Bank last week in its forecast said that China's economic growth will further decline to 6.5 per cent this year and 6.3 per cent next year.
"China's orderly transition to slower but more sustainable growth has continued despite some volatility in financial markets," said the World Bank's East Asia and Pacific Economic Update, which is published twice a year.
The growth deceleration was especially pronounced in the real estate and manufacturing sectors.
Excess capacity has been a drag on a wide range of industries, while service sector remains robust, the report noted.
Despite slower GDP growth, the urban job creation exceeded the annual target in 2015 and the household disposable income grew faster than GDP growth.
"The overall capacity of China's economy to create jobs is extremely high," said Sudhir Shetty, chief economist of the World Bank's East Asia and Pacific Region.
The bank warned that credit growth continues to outpace GDP growth and leverage is still building.
Monetary and fiscal policy stances are expected to remain accommodative to limit risks of a rapid growth slowdown that could trigger disorderly adjustments in accumulated imbalances.
The World Bank's forecast came as an official report here said China's consumer prices held steady in March, while producer prices showed signs of ending a run of negative readings, indicating the economy is heading for recovery.
The Consumer Price Index (CPI), a main gauge of inflation, rose 2.3 per cent year-on-year in March, unchanged from February, the National Bureau of Statistics (NBS) said in a statement on Monday.
The CPI remains below the government's 3 per cent target for the year. The CPI figure included a 7.6 per cent rise in food prices, up from 7.3 per cent year-on-year in February.
Non-food prices, which are a better reflection of inflationary pressure, remained subdued at 1 per cent, state-run Xinhua news agency reported.
NBS statistician Yu Qiumei attributed the rise in inflation mostly to high vegetable and pork prices.