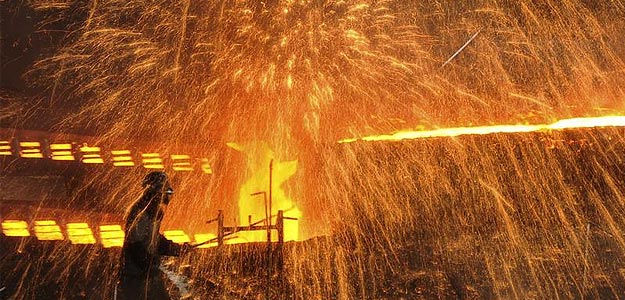 Beijing: Activity in China's manufacturing sector contracted at its fastest pace in three years in August, an official survey showed on Tuesday, reinforcing fears of a sharper slowdown in the world's second-largest economy despite a flurry of government support measures.

The official Purchasing Managers' Index (PMI) fell to 49.7 in August from the previous month's reading of 50.0, in line with expectations of analysts polled by Reuters.

A reading over 50 points signals an expansion in activity while one below that mark indicates an contraction on a monthly basis.

China's factories continued to suffer from sluggish demand at home and abroad, which has saddled some firms with enormous amounts of idle capacity and forced them to cut prices, eating into profits.

The sub-index for new orders - a proxy for domestic and foreign demand - fell to 49.7 in August from July's 49.9.

New export orders fell to 47.7 from 47.9 in July, contracting for an 11th consecutive month, according to data from the National Bureau of Statistics.

With demand remaining tepid, factory owners were forced to layoff more workers, and the employment sub-index fell to 47.9 from 48.0 in July.

"The broad based decline in almost all components of the PMI hints the central bank was right in introducing further easing measures on Aug. 25," said Chester Liaw, an economist at Forecast Pte Ltd in Singapore.

"It is clear that the interest rates and RRR cuts were not only aimed at containing further falls in the SSEC, but to boost activity in the real economy."


A preliminary, private survey released in August showed China's factory sector shrank at its fastest rate in almost 6-1/2 years in August, fanning global concerns that the economy may be slowing more sharply than earlier feared.
The government has rolled out a flurry of steps since late last year to try to keep the country's economy growing at roughly 7 per cent for the year, as targeted.
The central bank last week cut interest rates and trimmed the amount of reserves banks must hold for the second time in two months, ramping up efforts to support the economy. It has now cut interest rates five times since November.
A Reuters poll suggested that China's central bank is highly likely to ease monetary policy again by the end of this year to support a rapidly cooling economy and calm financial markets.
Premier Li Keqiang said recently international market instability "has increased the uncertainties around the global economic recovery, and the impact on China's financial market and imports and exports has also deepened, with the economy facing new pressure."
A similar official survey on the services sector showed activity was cooling there, too. Strength in services has been helping offset the broader economic downdraft from deteriorating factory conditions.
The official non-manufacturing Purchasing Managers' Index (PMI) fell to 53.4 from July's reading of 53.9, according to the National Bureau of Statistics.
The services sector has accounted for the bigger part of China's economic output for at least two years, with its share rising to 48.2 per cent last year, compared with the 42.6 per cent contribution from manufacturing and construction.
© Thomson Reuters 2015