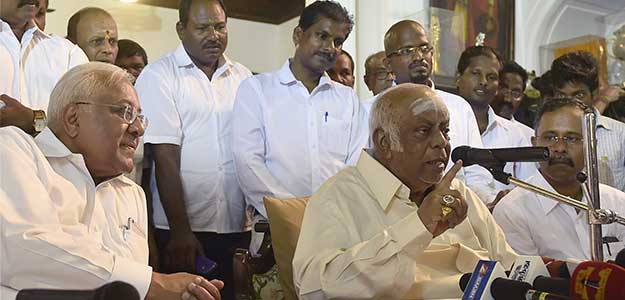 Chennai: In a new turn in the family drama of one of the famous business conglomerates in South India, M A M Ramaswamy, chairman emeritus of Chettinad Group of Companies, on Tuesday disowned his adopted son M A M R Muthiah and ruled out any settlement with him.

He also refused to give him any share in his property.

"He (Muthiah) is not my son. He will be neither my own son nor my adopted son. There is no relation between him and me. You have heard about (the phrase) blood is thicker than water. That is how he will be to me forever," Mr Ramaswamy told reporters at a packed conference.

The family feud in the Rs. 10,000 crore Chettinad Group that has business interest across various verticals like cements, hospitality, education, came to the fore recently after Mr Ramaswamy was not elected as a Director in the AGM of Chettinad Cement Corporation, the group's flagship company last year.

It turned ugly on May 23 at the Chettinad Palace spread across 125 acre land in posh M R C Nagar here when fourteen alleged henchmen of an assistant of Ramaswamy were arrested for locking a room of Muthiah.

In a bid to reach out to his father, Mr Muthiah said he was ready to resolve differences with him.

Mr Ramaswamy said he was not ready to settle differences with M A M R Muthiah at any cost.

"I have few days left (in my life). These people (referring to his assistants) will be there to look after me till my last journey. He (Muthiah) betrayed me. Don't trust him", Mr Ramaswamy said.

He was accompanied by his cousin and another city-based industrialist A C Muthiah, Chairman of SPIC Group.


According to A C Muthiah, S Ayyappan, who was named M A M R Muthiah, after he was adopted formally by Mr Ramaswamy, has been excluded from the "Nattukottai Nagarathar community".
"All the Chettiyars in the community are totally upset with him," he said.
On the next course of action, Mr Ramaswamy said he has written a "will" in which all the properties that belong to him would go to the newly-formed charitable trusts--Dr M A M Ramaswamy Chettiar of Chettinad Charitable Trust and Dr M A M Ramaswamy Chettiar Trust.
"I have also written and registered a will that all the assets which may be left at the time of my death would go to the said trusts and not to M A M R Muthiah or anyone claiming on his behalf or under him", Mr Ramaswamy said.
"I have also stated that he shall not perform any ceremonies or obsequies on my demise. Thus, I have disowned him and do not wish to call him my son. Whatever the law may be, he is no more my son. According to me, he can be only S Ayyappan and not M A M R Muthiah", he said.
To a query on what will happen to the Chettinad Group of Companies after him, Mr Ramaswamy expressed his wish that the group remains the same and the shareholders get good dividends.
"Chettinad Group of Companies and the Chettinad Palace will remain the same after me. It is my wish. I wish the shareholders that they get good dividends", he said.
On whether the Chettinad Palace was a heritage property, he said, "It is not a heritage property. That is why he (M A M R Muthiah) wants to preserve it. I will preserve it. We will not give it away. Why should we give it away?"