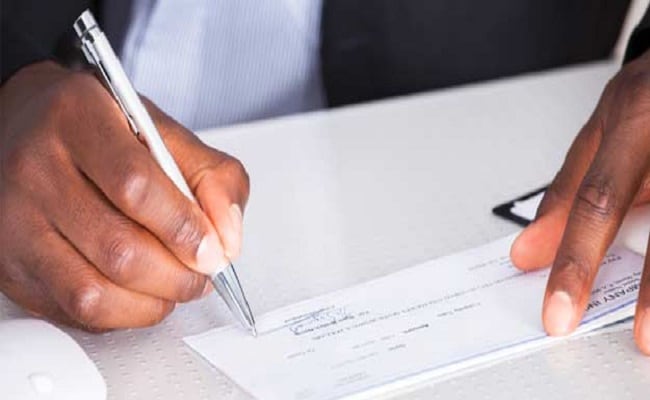 Cheque books of six banks that merged with public sector behemoth State Bank of India (SBI) are invalid with effect from January 1, 2018. SBI had earlier given time till
December 31, 2017
to customers of the banks which had merged with it, to get new cheque books. SBI had earlier set a deadline of September 30, 2017. Five associate banks of State Bank of India (SBI) and Bharatiya Mahila Bank were merged with SBI with effect from April 1, 2017. The merger of State Bank of Bikaner & Jaipur (SBBJ), State Bank of Mysore (SBM), State Bank of Travancore (SBT), State Bank of Patiala (SBP), State Bank of Hyderabad (SBH) and BMB has now made SBI join the league of top 50 banks globally in terms of assets.
Customers can apply for a new cheque book 'using INB, SBI Anywhere, SBI Mingle (web application) or visit the nearest ATM or branch' for the same, SBI said in a tweet.
All account holders of banks which were merged with SBI in April 2017 have to get the cheque book bearing the new IFSC code latest by 31st Dec 2017. Visit the branch or apply via internet banking, SBI Anywhere, SBI Mingle (Web App) or at the ATM. More: https://t.co/dZkEdKQwu2pic.twitter.com/bPc3909bn0

— State Bank of India (@TheOfficialSBI) December 30, 2017
If you are erstwhile customers of the banks that merged with SBI, here are 10 things you must know:
1. The website address after merger of your bank (SBH/SBP/SBM/SBT/SBBJ) with State Bank of India will be https://www.onlinesbi.com.
2. There is no need to register afresh for availing net banking services of SBI i.e. the merged bank. You can login with the same username and login password for logging into OnlineSBI.
3. There is no need to register your mobile number afresh after merger of your bank with SBI, said SBI on its website.
4. It is not required to register your email ID afresh in OnlineSBI.
5. The third party beneficiaries added and approved by you earlier will be available.
6. The same billers already registered by you will be available in OnlineSBI.
7. Even after merger of your bank with SBI, the standing instructions set earlier by you, will be executed on the due dates. There is no need to cancel those standing instructions.
8. Username and Password are case sensitive. If still you are unable to login, lodge a complaint in CMS, said SBI.
9. There is a change in NEFT/ RTGS charges. Service charges as applicable for SBI customers will be applicable for customers of Associate Banks, after data level merger.
10. For the time being, you will be able to use the fixed deposit (FD)/recurring (RD) deposit products of your erstwhile bank, said SBI. After data level merger, FD/RD products as applicable for State Bank of India will be available for opening using net banking.