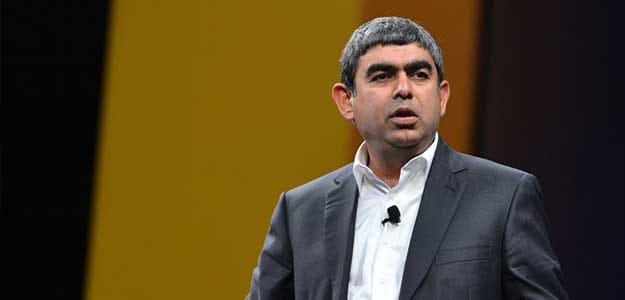 New Delhi:
Once a darling of stock markets, Infosys is now battling challenges like pushing growth and retaining talent and these are issues that the newly appointed CEO Vishal Sikka will have to act on fast to rekindle confidence among customers and investors, analysts said.
Sikka, a former board member of German software giant SAP, took over as the CEO of Infosys last week. He is the first outsider and non-founder CEO of the country's second largest software services firm.
"The news of Sikka's announcement is extremely important for Infosys since it ends the uncertainty that was the main enemy of Infosys. The new CEO will have to move very quickly to first calm the three key stakeholders, employees, customers and the investors, in that order," Gartner Research India Country Manager Partha Iyengar told PTI.
Infosys cannot afford any more resource departures especially at senior levels, he added.
Sikka, 47, previously headed technology and innovation at SAP and created analytics product HANA.
Once the IT bellwether, Infosys in the last couple of years has been reporting laggard performance, facing harassment allegations by overseas employees, top level exists, among others.
Its employee attrition hit a record high of 19.5 per cent in the April-June quarter of 2014-15, up from 16.9 per cent in the year-ago period.
For 2014-15, Infosys retained its conservative revenue guidance of 7-9 per cent in dollar terms and 5.6-7.6 per cent in rupee terms, much below Nasscom's industry growth outlook at 13-15 per cent in dollar terms.
All this at a time when its peers like TCS and HCL Technologies are reporting stellar performances.
"He will have to establish credibility with those stakeholders again, in a fairly short period and then energise them in the medium to long term. The medium term strategy will have to be fairly close to the knitting of the IT services industry, anything else will create a level of confusion and uncertainty again," Iyengar said.
Greyhound Research CEO Sanchit Vir Gogia feels though the firm is showing signs of recovery, it's still too early to say if it is in full swing and the new CEO has a lot on his hands.
"Vishal Sikka is stepping in at a time when Infosys is at a crossroads. The company has lost a lot of key people at the senior management. There are signs of recovery but we cannot say that the recovery is in its full swing yet. It's a tough position to hold and a tough job at hand. Vishal has got lots of ground to cover," he added.
UK-based research firm Tech Market View Managing Partner Anthony Miller also feels Sikka should focus on employees.
"In my view, Sikka should rather be spending that disproportionate amount of focus on the core bread and butter businesses and address Infosys' rampant attrition, because until those are fixed the rest is really just a sideshow," he said in a post.
Sikka last week had said that the thrust of his strategy will be on intellectual property, products and platforms, with a focus on SMAC (Social, Mobile, Analytics/Big Data, and Cloud).
Tech Market View's Miller said: "We are all for IP-based services, indeed it's about the only way to counter service commoditisation. And there's no doubt that the future lies in the SMAC stack.
"But both of these are really more about tomorrow's world in terms of moving the revenue growth needle -- as Infosys found with its prior Tomorrow's Enterprise-- tagged strategy."
It's important for Sikka to understand the business, its people and issues revolving around the firm, Gogia said.
"He should essentially better acquaint himself with the business and develop relationships and earn trust before making defining changes," he added.
Gogia said focus will also be on stepping up the profile for Infosys in US and European markets and improve positioning in innovation and digital.
In the short term, Sikka will need to build internal confidence. Getting a buy in from senior management, addressing investors, areas of improvement, becoming more hand on to the business are key focus areas that he will need to look at, Gogia said.
While in the medium term, Sikka needs to strengthen and build partnerships and alliances particularly in emerging tech and markets, Gogia said.
Attrition is one aspect that requires monitoring, setting of mid managers, investing in people is going to critical in midterm, he added.
However, Infosys has bettered market expectations and its performance in the last fiscal and the April-June quarter of this fiscal prove that.
For Fiscal 2013-14, Infosys' net profit grew 1.5 per cent to $1.75 billion, while revenue was up 11.5 per cent to $8.2 billion over 2012-13 financial year.
In the April-June 2014-15 fiscal, net profit rose 15.3 percent to $482 million, while revenues rose 7.1 per cent to $2.13 billion during the period.