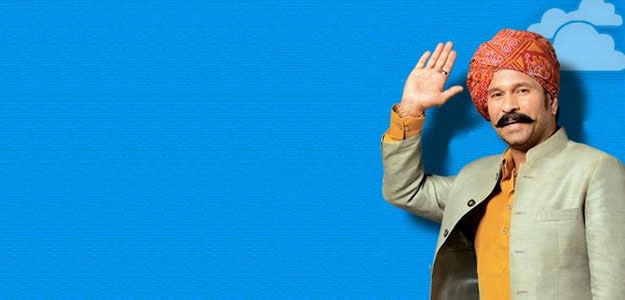 India's most revered athlete, Sachin Tendulkar, swung his final cricket bat on Friday ahead of one of the most watched and talked-about retirements from athletics in India - or for that matter, anywhere.

Now, he is trading his cricket uniform for a red turban and a fake mustache and a career in ads by an online travel agency.

Musafir.com, the online travel agency based in the United Arab Emirates, last month announced its arrival to Indians by hiring Tendulkar, one of the most recognizable faces on the subcontinent, as its "brand ambassador." The company would not say how much it is paying Tendulkar, 40, to plug the website, though it says he is also an investor.

But the batsman known affectionately across India as the Little Master will be pitting his star power against that of Salman Khan, the Bollywood movie leading man and possibly India's biggest celebrity, in a battle for the dollars of the new Indian middle class eager to travel. Yatra Online, a 7-year-old travel operator backed by the American venture capitalists Norwest Venture Partners and Intel Capital, hired Khan last year as its pitchman.


Musafir is trying to tap into these travel aspirations, spending $16.1 million in India over four to five years, a large part of which is for marketing. Its promotions urge Indians to "stop dreaming and start traveling." In a statement, the celebrated athlete noted that travel was "aspirational among Indians."
In hiring Tendulkar, Musafir is using two familiar Indian corporate tactics. Companies, from luxury watchmakers to airlines, frequently draft celebrities to sell products and even fill boardrooms. Indian Internet companies, in particular, raise considerable sums and then use it for advertising.
The market of Indian travelers looks tantalizing even though the country's economy has been slowing. PhoCusWright, a global travel research firm, expects Internet travel spending in India to reach $8.8 billion a year by 2016. It expects the market to continue swelling, as millions more Indians earn enough to fly and become comfortable buying online.
Three companies - MakeMyTrip, the entrenched leader; Yatra; and the Bangalore-based operator Cleartrip.com - handle nearly 90 percent of all online bookings nationwide, excluding bus tickets. Expedia, the American travel website, entered India in 2008, but has yet to gain a significant foothold.
"There is some strong competition out there already," said Chetan Kapoor, an analyst with PhoCusWright. "Just because a company is splurging marketing dollars to position itself a certain way, that doesn't ensure success."
The fevered interest may seem peculiar because the hard part of running an online travel service is not getting Indians to travel, but getting them to book their travel on the Internet. Indians can be noticeably skittish about buying online, as fraud protection is still limited.
Eighteen months ago, Yatra sold roughly 60 percent of its tickets through its large call center, the costly operation that all the big online agencies operate.
Thomas Cook India, a large multinational travel services provider, recently announced plans to add 34 brick-and-mortar stores across India, primarily in smaller cities. Madhavan Menon, the managing director, said his eventual goal was to move more services online. But he conceded that customers first needed "hand-holding and reassuring human contact."
Nevertheless, new online entrants, like Musafir, are willing to give it a try.
Albert Dias, a digital advertising executive, started Musafir in 2007 with two former college classmates. One co-founder, Sachin Gadoya, ran a travel agency then. The third, Sheikh Mohammed Abdullah al-Thani, is a member of the Qatari royal family; in May, he became the first from the nation to climb Mount Everest.
The three saw travelers in the Middle East countries pivot from old-fashioned agencies to online bookings. After adding 4,600 business clients in the region, they began to look for other places doing the same.
"We thought it was a fantastic opportunity," said Dias, so Musafir opened offices in India in 2010.
Musafir's arrival also signaled the continued influence of the area's states in India's aviation sector, which was fully opened to foreign investment only in September 2012. Two executives from Musafir's partner companies knew Tendulkar, who has endorsed more than 50 brands in his 24-year career, including Pepsi, Adidas and an alliance of Indian poultry farmers.
Forbes says his endorsement income makes him India's sixth-wealthiest celebrity, earning $18 million on top of his $4 million cricket salary, as of June. (In that contest, Khan is ahead as No. 2, with $27 million.)
Sharat Dhall, the president of rival Yatra, said Khan's presence spurred a surge in first-time bookings in smaller Indian cities - metropolises of 1 million to 5 million people, where Internet use is expanding.
The actor frequently stars in commercials for the agency, in English and Hindi, often imitating his screen personas. In the Musafir advertisement, which is now online and will move to TV and radio this week, Tendulkar, dressed as a fictional sheikh, silently snaps photographs of young Indians in imagined destinations.
India's online travel industry is especially challenged now with high fuel prices and inflation forcing airlines to raise ticket prices. Only one of the five top carriers is not losing money. "It has been a tough year for domestic air," Dhall said. "Some of the growth has been sluggish, even negative."
Yatra is focusing on hotel bookings and escorted trips, while Musafir plans to concentrate on catered holiday tours overseas for Indians.
"We intend to establish our brand," Dias said, "built around the trust and longevity that Sachin Tendulkar stands for."
@2013 New York Times News Service