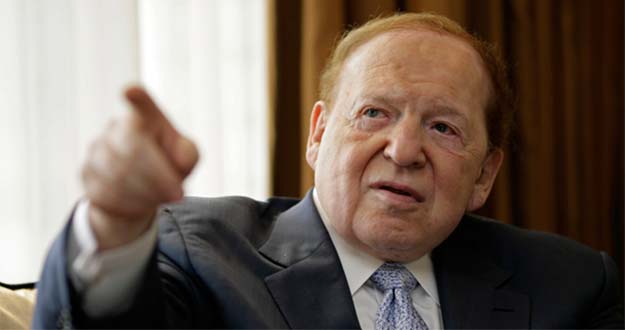 2013 turned out to be a great year for equity investors in the US. The Dow Jones Average scaled the 16,000 peak for the first time ever. The broader S&P 500 index rose 28 per cent for the year. In fact, 2013 was the best year for US equities since 1997.
Not surprisingly, billionaire promoters of listed firms and investors who dabble in equities made spectacular gains this year. However, the biggest financial gainer (in terms of absolute gains and not per cent gains) this year is American casino mogul Sheldon Adelson.
(Pics:The billionaires who earned the most in 2013)
According to the Forbes magazine, Mr Adelson's net worth soared $15 billion in 2013 from his gambling properties in Las Vegas, Macau and Singapore, making him the billionaire who made the most money this year.
Put another way, Mr Sheldon made $41 million, or Rs 254 crore, per day in 2013. Forbes estimates his total wealth at $37 billion.
At number two on the list of 2013's biggest financial gainers is Facebook's Mark Zuckerberg, who made $13.6 billion this year (or Rs 230 crore per day), Forbes estimated. Facebook, which made a disappointing debut on the Wall Street in 2012, started trading above its IPO price this year, benefitting Mr Zuckerberg. Forbes estimates his net worth at $26 billion.
Amazon's founder Jeff Bezos added $13.3 billion to his net worth this year, Forbes estimated.
At number four on the list is legendary investor Warren Buffett, who made about Rs 205 crore, or $33 million per day, in 2013, according to calculations by Forbes. He made $13.3 billion in 2013, taking his total net worth at the end of the year to $60 billion, Forbes said.
Mr Buffett's Berkshire Hathaway bought ketchup maker H.J. Heinz for $23.2 billion early this year. He also gave away $2 billion of Berkshire stock to the Gates Foundation in July, bringing his lifetime giving to nearly $20 billion.
The positions - five, six, seven and eight - are taken by the Waltons - the richest family in the world. Their wealth has been inherited from Bud and Sam Walton, founders of the world's largest retailer, Wal-Mart.
Google co-founder Larry Page made $9.4 billion this year, taking his net worth to $30.5 billion in 2013, Forbes said.
At number 10 is Microsoft's chairman Bill Gates, who made $25.5 million, or Rs 158 crore, every day. He added $9.3 billion to his personal fortune in 2013, ending the year with assets totaling $74.1 billion, Forbes said.
Mr Gates, along with Warren Buffett, has so far convinced over 100 of the super-rich to sign on to the Giving Pledge, a promise to donate at least half one's net worth to charity.
(Conversion rate: $=62 rupees)