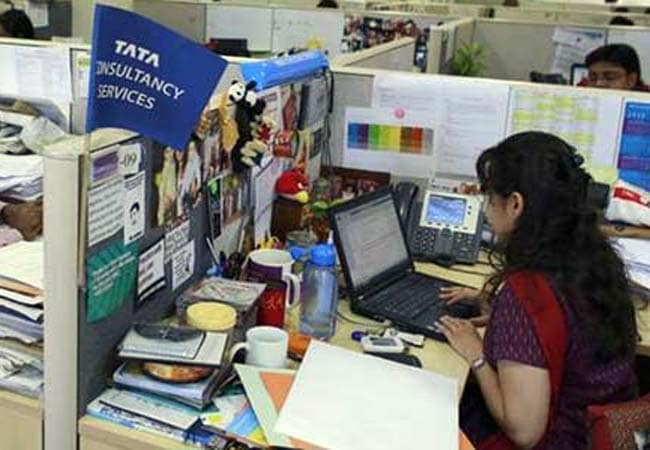 The last time Tata Consultancy Services reported its quarterly results,
its shares posted their biggest one-day loss in six months.
India's biggest outsourcer missed sales estimates, while its profits beat estimates mainly on account of higher other income. TCS' attrition rose for a fourth straight quarter.
According to Nomura, TCS has missed revenue growth expectations in the last three quarters because of segment-specific weakness in energy, telecom and insurance verticals.
But the June quarter could be different because clients tend to close budgets by March, after which spending picks up, driving growth for outsourcers. TCS sales, in US dollars, are expected to rise 4 per cent to $4,054 million in the June quarter, analysts polled by NDTV estimated.
In constant currency, TCS is likely to post a growth of 4.3 per cent as compared to 1.6 per cent growth in the March quarter, according to analysts polled by NDTV.
Banking, financial services and manufacturing verticals are expected to drive growth in the June quarter.
TCS margins, however, are likely to come under pressure because of the wage hikes announced in this quarter. On an average, TCS gave 6-10 per cent hikes to offshore employees and 2-4 per cent hikes to onshore employees starting April 1, 2015.
EBIT or operating margins are therefore likely to be 100 basis points lower than the previous quarter at 25.6 per cent, analysts estimated.
In rupee terms, TCS is likely to post a 4.6 per cent sequential rise in sales at Rs 25,326 crore from Rs 24,219 crore in the March quarter. The sequential depreciation of the rupee against the US dollar is likely to aid topline, analysts say. Profits are expected to drop 8.2 per cents sequentially to Rs 5,421 crore against Rs 5,905 crore in the March quarter.
Brokerage outlook
Nomura expects TCS to outgrow peers such as Infosys and Wipro and to sustain valuation premiums. However, Nirmal Bang Securities expects TCS to revise its growth forecast in the coming quarters.

"TCS has indicated its 'aspiration' to grow above industry body Nasscom's revenue growth estimate of 12 per cent - 14 per cent for FY16. We believe it has set challenging target which is likely to be revised in a quarter or two," the brokerage said.

TCS shares closed 2.80 per cent lower at Rs 2,522 on BSE, underperforming the broader market that shed 0.4 per cent.