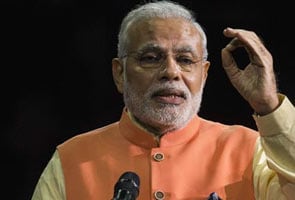 New Delhi: Industry chambers welcomed the Cabinet expansion on Sunday saying the development signals a serious intent on the part of Prime Minister Narendra Modi for faster decision making process and kicking in reforms.

"The induction of new (Cabinet) ministers and ministers of state would streamline governance and bring in new ideas for the economic reforms process," said Ajay Shriram, president of the Confederation of Indian Industry (CII).

Several of the ministries were under a single minister, and industry was widely expecting the expansion of the Cabinet at an early date, he said.

"The Cabinet expansion sends out a strong signal that the government under Prime Minister Narendra Modi is serious about accelerating the reforms process."

It is important to fast-track facilitative and promotional policies to strengthen the economy which is undergoing a recovery process, he added


Another industry body Assocham said the expansion of the Cabinet would surely add new vitality to the government.
"The fact that some of the key portfolios will now have full time Cabinet minister in-charge will provide speed to the decision making in important sectors of the economy," it said in a statement.
"Besides, induction of some leaders in the Cabinet, who enjoy clean image and are known for efficient functioning, has also sent a signal about the non-compromising attitude of the Prime Minister when it comes to these attributes," it added.