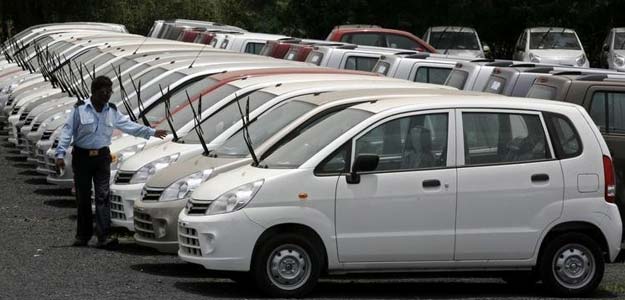 With the price differential between petrol and diesel narrowing sharply, the extra money paid to buy a diesel variant no longer makes economic sense, says Crisil Research in a note.

The share of diesel variants in total domestic sales of passenger cars and utility vehicles has started falling since peaking at 58 per cent in fiscal year 2012-13, according to Crisil. The research agency expects the percentage of diesel vehicle sales to fall to 45 per cent for this fiscal year (2014-15) while petrol vehicles increasing their share to 55 per cent.

Disadvantage Diesel

Diesel cars have typically been priced higher in India compared with petrol variants because of technology costs and other factors. This price premium ranges from about Rs 1 lakh for small car models to as high as Rs 3 lakh for luxury sedans, says Crisil.
(Also read: Diesel Prices Likely To Be Cut Soon)
Ajay Srinivasan, director of industry research at Crisil Research, said that the resale prices of diesel cars has also been impacted due to the narrowing price differential between the two types of fuel. (Watch)

Fuel cost - a combined factor of the price of the fuel and the mileage of the vehicle - is one of the major components of the ownership cost of a car. Annual fuel cost is currently estimated to be about 30 per cent less for a diesel variant, assuming average annual car usage of 10,000 km, says Crisil. But this number has been decreasing - after touching a peak of 50 per cent in fiscal 2012 - as the government began to bite the subsidy bullet and started raising the price of diesel.

With the fuel price gap between petrol and diesel declining, Crisil expects the average petrol-to-diesel price ratio to reach a decade low of 1.2 times in this fiscal. Crisil also expects petrol-to-diesel price ratio to remain in this range if there in full diesel deregulation.

"This clearly indicates that purchasing a diesel car today does not make economic sense for private users, unless justified by usage. For commercial users, however, diesel cars still make economic sense given that usage will be much higher," Crisil says.

Here's the Diesel vs Petrol Math

In fiscal 2011-12, when the fuel price differential between petrol and diesel was at its widest, it took around 2.5 years to recover the premium paid to buy a diesel car, for example on a small car like Maruti Swift, says Crisil.


Today, with the petrol-diesel fuel price gap narrowing sharply, it will take nearly six years to recoup the extra money paid to buy the diesel model of the same Maruti Swift, adds Crisil.
(See Chart -1 below )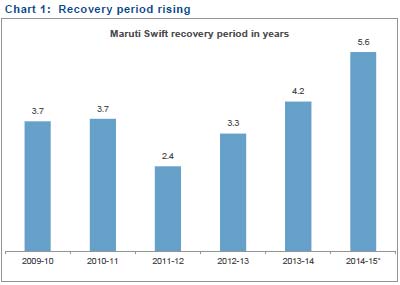 Source: Crisil
Crisil's calculation is based on average car usage of 10,000 km annually in India. If one takes into interest income on the extra money paid on diesel vehicle vis-a-vis the petrol model, the recovery period would go up further.

Crisil in its calculation has taken the petrol price of Maruti Swift at Rs 4.42 lakh and Rs 5.46 lakh for diesel model (both ex-showroom prices New Delhi as of September 2014). Crisil further assumes on resale of the diesel model, 40 per cent of this price differential of Rs 1.04 lakh would be got back.

How It Works Out

The petrol variant of Swift gives 18.6 km/litre vs 22.0 km/litre on the diesel model (mileages are ARAI certified), according to Crisil. This means that for 10,000 km annual run, the diesel Swift owner will save Rs 11,082 per year on fuel costs due the diesel model's better mileage and lower cost of diesel fuel. And adding the resale differential of Rs 41,000 (40 per cent of Rs 1.04 lakh), it would take the buyer 5.6 years to recover the extra price (Rs 1.04 lakh) paid for the diesel model. Crisil's calculation is based on petrol at Rs 68.51/litre and diesel at Rs 58.97/litre (fuel prices in New Delhi as of August 31, 2014).

Crisil also assumes the maintenance cost to be similar for petrol and diesel variants. Based on the same calculation, Crisil says it would take 9.5 years for the diesel owner of Skoda Superb Elegance to recoup the extra cost. (See: Table 1 below)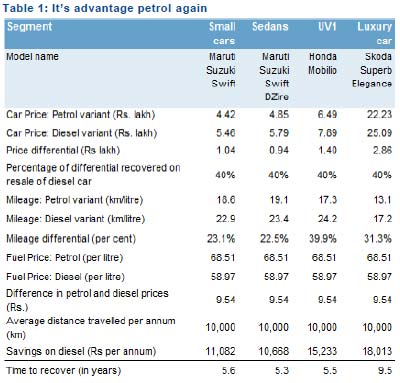 Source: Crisil

Crisil however says diesel variants will remain attractive in some segments because buyers tend to focus a lot on performance metrics such as extra power and torque.