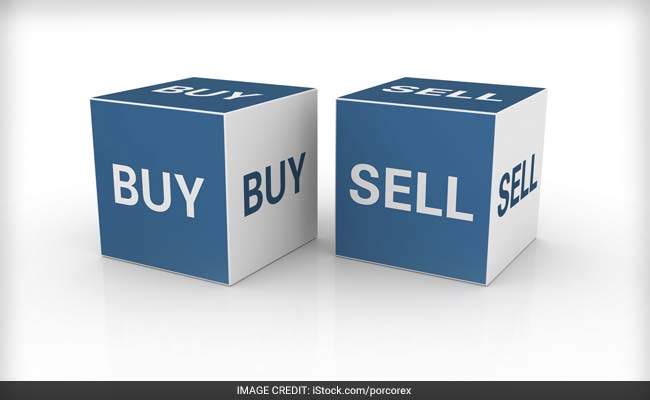 Stock markets were trading lower in trades today owing to profit-booking in banking shares after Thursday's upmove. Sensex fell over 100 points while Nifty was struggling below its crucial psychological level of 8,700. Meanwhile, NDTV Profit spoke to market experts to discuss their top picks.
Market expert Vikas Sethi of Sethi FinmartBuy M&M Financial Services
for target of Rs 375.
Buy DLF
for target of Rs 160.
Buy Delta Corp
for target of Rs 190.
Sumeet Bagadia, associate director at Choice BrokingBuy Adani Ports
for target of Rs 300-325 with stop loss at Rs 270.
Sell Hero MotoCorp
for target of Rs 3,270-3,200 with stop loss at Rs 3,420.
Buy Wipro
for target of Rs 515-525 with stop loss at Rs 480.
Gaurav Bissa, derivative analyst at LKP SecuritiesBuy Ashok Leyland
for target of Rs 90 with stop Loss at Rs 83.5.
Buy Tata Power
for target of Rs 88 with stop loss at Rs 79.
Buy Jain Irrigation
for target of Rs 108 with stop loss at Rs 98.
Sell United Breweries
for target of Rs 880 with stop loss at Rs 930
Siddharth Sedani, assistant vice president advisory, Anand RathiBuy Aarti Industries:
Aarti Industries (AIL) is one of the most competitive benzene- based specialty chemical companies in the world. Globally ranks in top four companies for 75 per cent of its portfolio and is accorded "Partner of Choice" by various major global and domestic customers.
Aarti has 16 manufacturing units spread across Gujarat and Maharashtra and has a strong research and development with sophisticated instruments & pool of scientists. Aarti has customers spread across the globe in 60 countries with major presence in USA, Europe, Japan and India.
AIL currently has integrated across more than 70 Products in to its production lines and its operating margins during the quarter improved by 316 basis points to 22.6 per cent to Rs 1,546 million as against Rs 1,317 million in Q1-FY16. The PAT margins for the company improved 307 basis points to 12.1 per cent at Rs 825 million.
At CMP the stock is trading at 17 times FY17E estimated earnings and 11.7 times FY18 estimated earnings. We have Buy Rating with a target price of Rs 817 per share.
Buy CCL Products:
The consolidated net revenue witnessed de-growth of 39 per cent at Rs 1,423 million. EBITDA and PAT also decline by 41 per cent and 56 per cent to Rs 286 million and Rs 130 million respectively. The major decline for the quarter was seen on account of shutdown of its plants in Vietnam and India for refurbishment activity.
The company is witnessing good progress in its continental brand. It has witnessed 150 per cent growth in revenue. CCL is now exclusive supplier to defence establishments apart from supplying to large institutions.
As per management US still remains largest market for coffee and provides good opportunity. However due to US election the traction from consumer is uncertain which management expects to resume post elections. Management is confident of achieving 12-15 per cent volume growth in FY17 and continues to maintain its 15% growth in PAT.
We continue to remain positive on the stock on back of positive outlook from management, expansion in capacity and increased opportunity in coffee market. We maintain buy rating with target price of Rs 340.
Disclaimer: Investors are advised to make their own assessment before acting on the information.