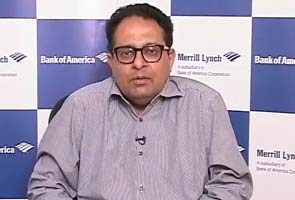 Global brokerage house Bank of America-Merrill Lynch (BofA-ML) believes the budget may not be the right platform for bold reforms. Finance Minister Arun Jaitley is due to present his maiden budget on July 10.

"Budget is an annual exercise so I guess the budget may not be the right way to take bold reforms. Maybe they will announce a roadmap for bold reforms in the budget. So that's probably what he (Arun Jaitley) meant," Indranil Sengupta, chief India economist, Bank of BofA-ML said. (Watch)

Mr Jaitley speaking at an event in Delhi a few days ago had said that "there is hope that bold decisions will be taken now."

The budget will largely be a "statement of intent" rather than something that makes huge changes in the economy, BofA-ML said.

"We will certainly get to know the priorities of the government. A budget is an annual exercise and this is something that is being done with a very limited number of months left and we see another full-scale budget in February," Mr Sengupta said.


In the budget there could be some inter-sectoral adjustments like taxing tobacco more while offering fiscal incentives to other segments of industry, BofA-ML said.
"But I don't see how given the constraints of the fiscal deficit the government has a lot of room to pump prime at this point in time," Mr Sengupta added.
India's fiscal deficit in the first two months of financial year 2014-15 touched Rs 2,40,837 crore or 45.6 per cent of the full-year target. The deficit last fiscal was 4.5 per cent.