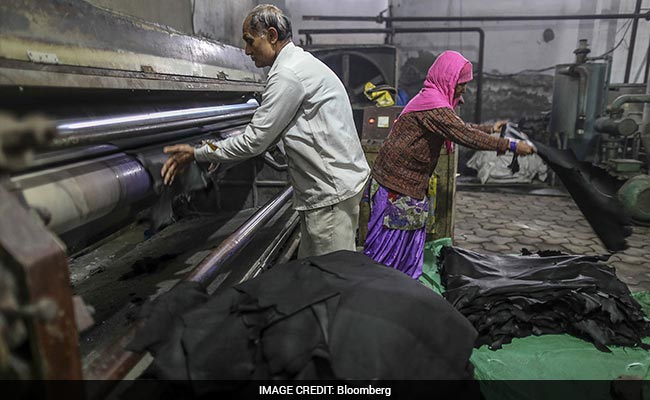 Promoting inclusive employment-intensive industry, and building resilient infrastructure are vital factors for economic and development. The Government is taking several sector-specific measures in this direction. This was stated in the Economic Survey 2017-18 presented by the Union Minister for Finance and Corporate Affairs, Shri Arun Jaitley in Parliament today. Apart from structural reforms like Goods and Services Tax, Insolvency and Bankruptcy Code and measures to facilitate Ease of Doing Business, the Survey highlights that the Government has initiated sector specific reforms in Steel, Apparel, Leather and Power sectors to address specific challenges associated with each of these sectors. Various reforms undertaken by the Government over the last 3 years, have been recognized by international rating agencies such as Moody's Investor Service and up-gradation in the ranking of Ease of Doing Business of the World Bank Report 2018, the Survey further adds.
The Economic Survey 2017-18 further says that the Index of Industrial Production (IIP) which is a volume index with base year 2011-12, shows that the industrial output increased by 3.2 percent during April-November 2017-18. This was a composite effect of robust growth in electricity generation at 5.2 percent and moderate growth in both mining and manufacturing sectors at 3.0 percent and 3.1 percent respectively. The Index of Industrial Production (IIP) registered a 25-month high growth of 8.4 per cent with manufacturing growing at 10.2 per cent.
According to the Economic Survey 2017-18, the Eight Core Infrastructure Supportive Industries, viz. Coal, Crude Oil, Natural Gas, Petroleum, Refinery Products, Fertilizers, Steel, Cement and Electricity attained a cumulative growth of 3.9 percent during April-November, 2017-18. The production growth of Coal, Natural Gas, Refinery Products, Steel, Cement and Electricity was positive during this period. The steel production increased substantially, while the production of crude oil and fertilizers fell marginally during the period, the Economic Survey adds. ECONOMIC SURVEY 2017-18
The Survey notes that nominal outstanding credit growth to industry turned positive to 1 per cent in November 2017 for the first time after witnessing negative growth since October 2016. Demand for funds by Indian firms, in the wake of the credit slowdown, has been somewhat met by alternative sources such as corporate bonds and commercial paper.
The pre-Budget Economic Survey state that the total Foreign Direct Investment inflow grew by 8 per cent i.e. $60.08 billion in 2016-17 in comparison to $55.56 billion of the previous year. In 2017-18 (April - September), the inflow of total FDI was to the quantum of $33.75 billion.
On the Ease of doing Business, the Economic Survey highlights that India has leapt 30 ranks over its previous rank of 130 in the World Bank's latest Doing Business Report 2018. Credit rating company Moody's Investors Service has also raised India's rating from the lowest investment grade of Baa3 to Baa2.This has been made possible due to a host of measures undertaken by the Government including implementation of the Goods and Services Tax, Insolvency and Bankruptcy Code, and announcement of bank recapitalization. A number of reforms to boost industrial growth include Make in India programme, Start-up India and Intellectual Rights Policy. The Economic Survey listed out Sectoral Initiatives:-
Steel: In order to address dumping of cheap steel imports from China, South Korea and Ukraine, the Government raised customs duty and imposed anti-dumping duty, Minimum Import Price (MIP) on a number of items in February 2016, with a sunset clause of one year. These measures helped the domestic producers and exports recovered. The Government notified anti-dumping duties and Countervailing Duties on various steel products in February 2017. The Government has rolled out a New Steel Policy in May 2017.
MSME Sector: MSMEs in India play a crucial role in providing large scale employment opportunities at comparatively lower capital cost than large industries and also in industrialization of rural & backward areas. The Government has initiated a number of schemes for the sector and particularly the Pradhan Mantri Mudra Yojana for development and refinancing activities relating to micro industrial units in 2016-17.
Textiles and Apparels: To address some of the constraints faced by apparel firms, the Cabinet announced a Rs 6,000 crore package for the apparel sector on June 2016. It was found that since its implementation in June 2016, the package had a positive impact on the exports of Ready Made Garments (RMG) of Man-made fibres while it did not have a statistically significant impact on the RMG of other natural fibres, except wool. The impact of the package increased over time and did not show any signs of attenuation. The Government has in December 2017 approved the scheme for Capacity Building in Textile Sector (SCBTS) with an outlay of 1,300 crore for the period 2017-2018 to 2019-2020.
Leather sector: Leather sector is also highly labour intensive sector. The sector faces challenges which have been addressed through a scheme for the purpose of promotion of employment in the leather & footwear sector in December 2017, with an outlay of Rs 2,600 crore over three financial years 2017-18 to 2019-2020.
Gems and Jewellery: India is one of the largest exporters of gems and jewellery. Exports of the sector have risen from 0.7 per cent in 2014-15 to 12.8 per cent in 2016-17. Training in jewellery designing, setting up refineries, hallmarking centres etc. and creation of multiple jewellery parks would help the sector.