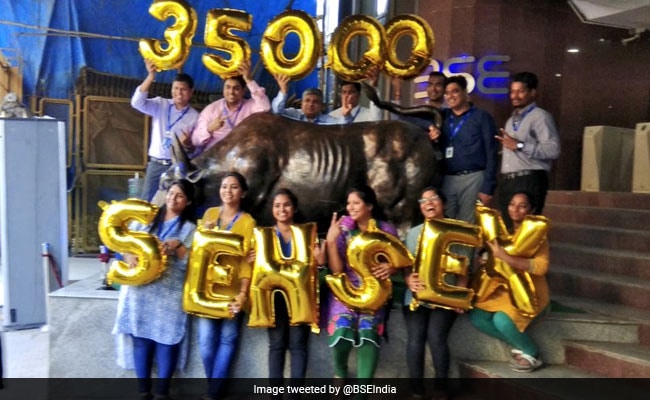 Highlights
Banking stocks led the gains
The Bank Nifty rose over 2 per cent
Yes Bank, HDFC Bank, IndusInd Bank among top gainers
Stock markets are on a roll. A day after Sensex conquered 35,000, the benchmark index posted fresh highs amid higher global markets and optimism about earnings of India Inc. Asian stocks struck record highs today, with a rally by Wall Street supporting bullish investor sentiment. The Sensex surged nearly 400 points to a record high of 35,489 while the Nifty rose to 10,887, also a new high. The rupee also moved higher to 63.80 against the dollar, compared to Wednesday's close of 63.88.
10 Things To Know About Sensex, Nifty Gains Today:
1) Banking stocks extended gains amid expectations that the government would increase the foreign investment limits for banks. The sectoral index for banks, Bank Nifty, rose around 2 per cent.
2) The government is considering raising the foreign investment ceiling in banks, a newspaper report said today.
3) The rally in banks was also supported by the government's decision on Wednesday to trim additional market borrowing by 60 percent for the ongoing fiscal year ending March. Yes Bank, IndusInd Bank and HDFC Bank were up 2-3 per cent.
4) Foreign institutional investors (FIIs)/foreign portfolio investors (FPIs) have been strong buyers of Indian equities in the past few sessions. On Wednesday, they bought shares worth a net Rs 625.13 crore.
5) Third-quarter earnings of India Inc have also got off to a good start with IT majors TCS and Infosys meeting market expectations. FMCG major Hindustan Unilever also posted better-than-expected third-quarter earnings on Wednesday.
6) Shares of IT company MindTree rose as much as 10 per cent to its highest level in over 20 months after posting a 37 per cent jump in its December-quarter consolidated net profit.
7) Supporting the market sentiment some recent economic data points such as auto sales and industrial production have also been encouraging. HDFC Securities managing director and chief executive Dhiraj Relli said recovery in private capital expenditure is on the anvil with encouraging manufacturing PMI and factory output numbers.
8) Rising inflation and global crude prices however remain a worry for Indian markets. Experts say that in the near term, the Union Budget - which is set to presented on February 1, third-quarter earnings of India Inc and global markets will determine the trend in the markets in the near term.
9) Besides, if earnings expectations are not met, it could be a disappointment for the markets given the high valuations, they add.
10) US stocks jumped overnight and the Dow closed above 26,000 for the first time as investors' expectations for higher earnings lifted stocks across sectors.