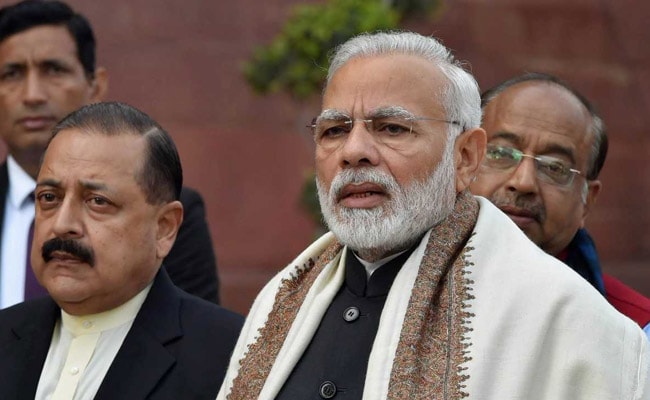 Highlights
Budget shortfall will be 3.5 percent in the year ending March 31
Govt: Focus on benefits reaching farmers, vulnerable sections
Govt: Focus on strengethening farm sector, rural economy
India will miss its deficit targets as Prime Minister Narendra Modi looks to placate angry rural voters and create jobs before national elections next year.
The budget shortfall will be 3.5 percent in the year ending March 31, Finance Minister Arun Jaitley said in parliament today, wider than the previous 3.2 percent target. The government will aim for 3.3 percent next year rather than its earlier 3 percent goal.
"We have taken up programs to direct the benefits of structural reforms and good growth to reach the farmers, poor and other vulnerable sections of the society and uplift the underdeveloped regions," Mr Jaitley said. "This year's budget will consolidate these aims and particularly focus on strengthening agriculture and rural economy."
Bonds, stocks, and the rupee fell after Bloomberg first reported on the deficit breach. Apart from higher spending on farmers, Mr Jaitley also announced tax breaks for small companies and imposed a levy on equity-trading gains as his government looks to offset revenue losses while hopefully creating more jobs before the elections. Unemployment is the biggest concern for Indians, according to a private survey conducted last month.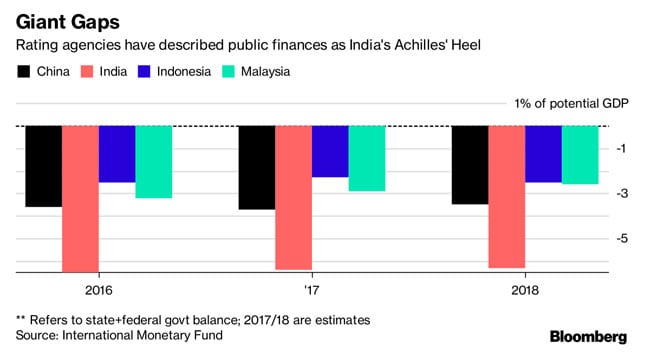 Investors have been skeptical of the government's long-standing vow to improve public finances -- rising yields made the nation Asia's worst-performing fixed income market over the past quarter. Higher spending also complicates policy for the central bank, which meets next week to review interest rates amid accelerating inflation.
"In the background there have been a few election results that have not been exactly in favor of the ruling party. People may have been getting impatient in the terms of progress at their level," Chetan Ahya, chief Asia economist at Morgan Stanley, said in an interview with Bloomberg TV before the announcement. "So there is pressure on the government to do something, so that some of the progress is shared."
Farm stocks surged and healthcare and insurance shares rose soon after the announcements. However the main equity index was trading 0.4 percent lower as of 1:05 p.m. in Mumbai and the rupee weakened 0.4 percent to 63.83 a dollar. Yield on the benchmark 10-year bond rose eight basis points to 7.50 percent.
PM Modi's party faces as many as eight state elections this year after economic woes contributed to its worst showing in more than two decades in a vote in his home state of Gujarat late last year. Then there's the national poll early in 2019.
While the ruling party and its allies would still win a majority were elections held today, clear rumblings of discontent are visible below the surface, according to a survey by Lokniti-CSDS-ABP News last month. Support for the Modi-led alliance among farmers, traders and shopkeepers has fallen to 43 percent from 50 percent since May 2017 and most voters identified unemployment as being India's biggest problem.
However, there's little space for monetary stimulus after inflation breached the central bank's target. The Reserve Bank of India will keep the benchmark repurchase rate at 6 percent on February 7, according to most economists in a Bloomberg survey conducted before the budget announcement.
"You merge yourselves in the void and disappear, and let New India arise in your place," Mr Jaitley said while concluding his speech, quoting an Indian saint. "Let her arise -- out of the peasants' cottage, grasping the plough; out of the huts of the fisherman, the cobbler, and the sweeper. Let her spring from the grocer's shop, from beside the oven of the fritter-seller. Let her emanate from the factory, from marts, and from markets. Let her emerge from groves and forests, from hills and mountains."