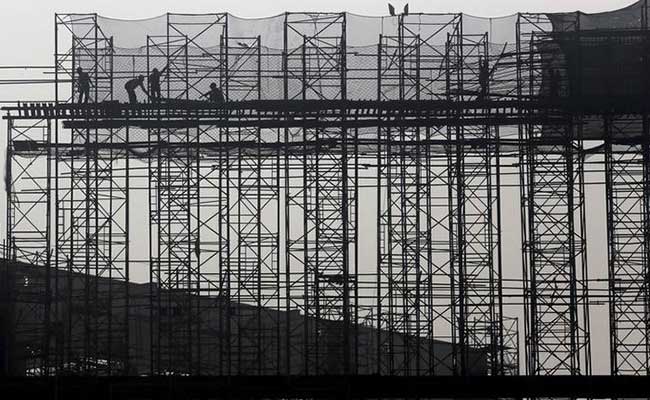 The government cannot rule out a pause in its fiscal consolidation plan in the year through March, Chief Economic Adviser Arvind Subramanian has said in the Economic Survey presented in Parliament on Monday, setting its tone ahead of Thursday's union budget.
"Setting overly ambitious targets for consolidation -- especially in a pre-election year -- based on optimistic forecasts that carry a high risk of not being realized will not garner credibility," the survey said.
Sovereign bonds extended decline, with the yield on benchmark 10-year notes rising by four basis points to 7.35 per cent as of 1:43 p.m. in Mumbai. The rupee declined 0.1 per cent to 63.5775, while equities extended gains on optimism over strong growth projections in the economic survey.
In the budget presentation, Finance Minister Arun Jaitley is expected to strike a balance between giving incentives to taxpayers before 2019 national polls and reassuring rating companies looking for an improvement in one of Asia's widest budget deficits. It is the government's last full budget before PM Modi seeks a second term in national elections next year.
The economy is expected to grow at 6.75 per cent this year on the back of a recovery in second half of the year, today's annual report said. It sees the gross domestic product expanding to about 7-7.5 per cent next financial year and warned economic management will be challenging in the coming year due to the overall economic and political background.
Structural Reform
In the first eight months of the year, the fiscal deficit reached 112 per cent of the target, largely because of a shortfall in reduced dividends from government companies, the survey said, noting higher-than-estimated revenue from asset sales would partially offset this. The government's effort to seek more dividend from the central bank is said to have failed.
The effects of an unprecedented ban on high-value currency notes in November 2016 and new national sales tax GST in July -- which pulled growth down to the levels seen before PM Modi's election in 2014 -- appear to be receding, the survey said. It projected a rebound in private investment and exports, but cautioned persistently high oil prices remain a key risk.
"A pause would imply a fiscal deficit target similar to last year, that is 3.5 per cent of GDP," said Sonal Varma, chief India economist at Nomura Holdings Inc. "The reason for a pause is primarily a structural reform like GST."
Most economists in a Bloomberg survey published last month predict PM Modi will keep the budget gap target for the year starting April 1 unchanged at 3.2 per cent of GDP. That would mean a pause as the government had earlier pledged to lower the deficit to 3 per cent.
The survey pegged GDP growth at 6.75 per cent in the current year -- the lowest since Modi came to power -- and 7.5 per cent next year. The government is scheduled to publish its second advance estimate for this year's GDP on February 28.
The government's policy agenda for coming year would be to support agriculture, stabilize GST, finish resolution and recapitalization, privatize Air India and head off macro-economic pressures, Mr Subramanian tweeted.