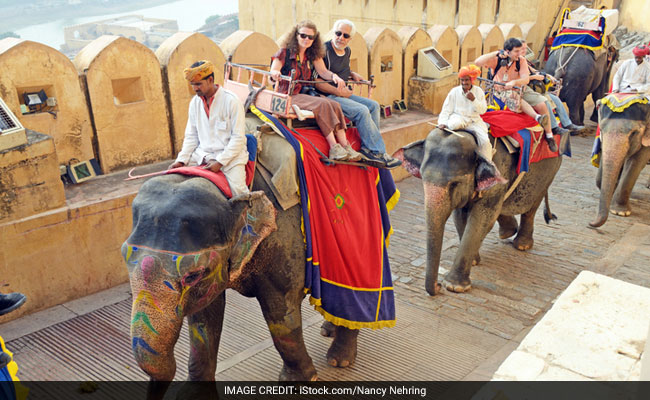 Tourism is one industry that will be looking hopefully towards the Budget. After all there is need for increased investment in this sector which has shown an upward growth in 2016-2017, and also till end December.
There has been 10.7 per cent growth in foreign arrivals and a 15.1 per cent growth in foreign exchange earnings from tourism. Rajasthan has benefited as it saw a 17 per cent increase in tourist arrivals.
So what is helping the industry?
E-Visas have definitely made it easier to travel to India. The facility which was started in December 2016, for 161 countries, allows tourists to get a visa online without having to send their passports or make a trip to the embassy.
Rebecca a tourist from Quebec, Canada, who was visiting the Amer Fort in Rajasthan said: "I got my visa in two days, it was very convenient and I did not have to send my passport."
But In July 2017 the increased Goods and Services Tax (GST) on luxury hotels has made India a more expensive destination Luxury hotels are defined as those who charge more than Rs 7,000 per room per night for them GST is now 28 per cent, where in earlier it used to be 14 per cent.
"GST on luxury hotels in 28 per cent, but a luxury hotel actually starts at Rs 6,000 a night which is not high class. Now that has made a difference, our own GST as a tour operator has also gone up," Emma Horne , a travel agent said.
Meanwhile one sector that is benefiting from tourist arrivals are home stays and bed and breakfast places and even hostel rooms for the budget traveller which have gone up almost five times in the past three years in Jaipur.
36-year-old Divya Singh, a housewife, has turned her culinary skills into a successful business. After her home cooked Rajasthani meals were a huge hit with tourists, she turned her over 250 year old haveli into a bed and breakfast place.
"The USP is a home cooked meal and interaction with the family, you can't get this in a restaurant," Mrs. Singh said.
Officially, the tourism department records data for big projects. They expect Rs 900 crores of investment in tourism units which could give employment to more than 40,000 people over the next 3 years. However the government also needs to focus on improving facilities for domestic travellers.