Highlights
Diesel price rises to Rs 61.88/litre in Delhi, petrol at Rs 71.27/litre
Diesel price is at all-time high in Delhi, petrol at three-year peak
Petrol price up 9 paise/litre on Tuesday, diesel 14 paise/litre
Diesel price rose to a record high of Rs 61.88 per litre in Delhi on Tuesday, as global oil rates continued their rally. Petrol retailed at a three-year high of Rs 71.27 per litre in the national capital. Petrol price at Rs 71.27 per litre, effective 6 am, January 16, was the highest recorded since August 2014, according to state-owned Indian Oil Corporation. On Tuesday, petrol prices were increased by 9 paise per litre in Delhi, Mumbai, Kolkata and Chennai. Diesel rates were raised by 14-16 paise per litre in the four metros.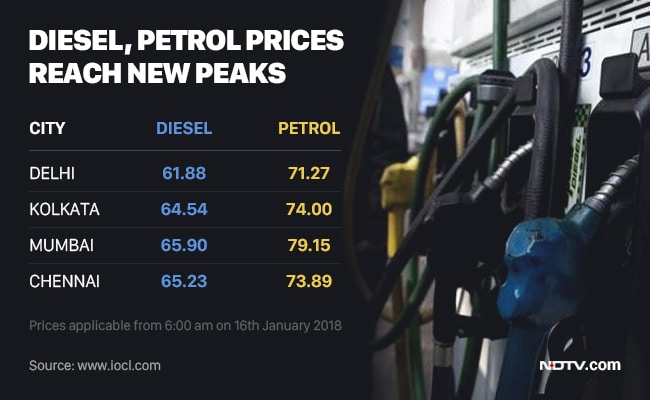 Here are 10 things to know:
1. Currently, petrol prices were at Rs 74 per litre in Kolkata, Rs 79.15 per litre in Mumbai and Rs 73.89 per litre in Chennai, while diesel prices were at Rs 64.54 per litre, Rs 65.9 per litre and Rs 65.23 per litre respectively.
2. Domestic fuel prices are mostly determined by global crude prices and the dollar-rupee exchange rate.
3. Crude prices have rallied, sending Brent crude above $70 per barrel for the first time since December 2014, a worry given that India imports most of its energy needs.
4. A production-cutting pact between the Organization of the Petroleum Exporting Countries (OPEC), Russia and other producers has given a strong tailwind to oil prices.
5. A weaker dollar and expectations of stronger global economic growth has also pushed oil prices higher.
6. The government had cut
excise duty
by Rs 2 per litre in October 2017, when petrol price reached Rs 70.88 per litre in Delhi and diesel Rs 59.14. Because of the reduction in excise duty, diesel prices had on October 4, 2017 come down to Rs 56.89 per litre and petrol to Rs 68.38 per litre. However, a global rally in crude prices pushed domestic fuel prices higher.
7. The October 2017 excise duty cut cost the government Rs 26,000 crore in annual revenue and about Rs 13,000 crore during the remaining part of the current fiscal year.
8. The government had between November 2014 and January 2016 raised excise duty on petrol and diesel on nine occasions to take away gains arising from plummeting global oil prices. In all, duty on petrol rate was hiked by Rs 11.77 per litre and that on diesel by 13.47 a litre in those 15 months that helped government's excise mop up more than double to Rs 242,000 crore in 2016-17 from Rs 99,000 crore in 2014-15.
9. State-owned oil companies - Indian Oil Corporation, Bharat Petroleum Corporation and Hindustan Petroleum Corporation - in June last year dumped the 15-year old practice of revising rates on the 1st and 16th of every month . Instead, they adopted a daily price revision system to instantly reflect changes in cost. Since then prices are revised on a daily basis.
10. Despite a cut in taxes, retail petrol prices have risen 7 per cent and diesel 10 per cent since June in Delhi.
(With agency inputs)
Election Results for Lok Sabha Election 2019 will be out on May 23. Get the latest election news and live updates on ndtv.com/elections. Catch all the action on NDTV Live. Like us on Facebook or follow us on Twitter and Instagram for news updates from each of the 543 parliamentary seats for the election 2019