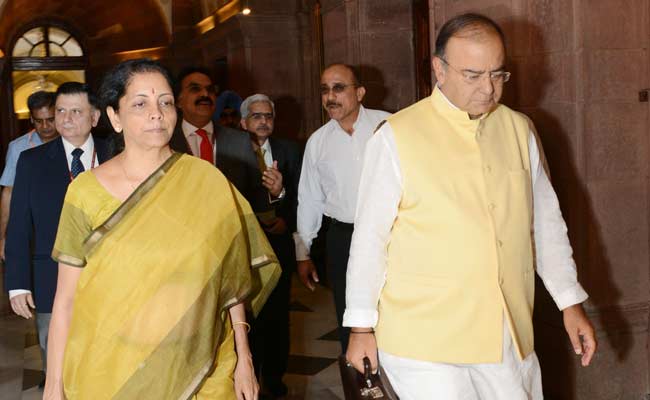 Highlights
Prime Minister Narendra Modi's new government on Thursday unveiled a reform-minded budget
Prime Minister Narendra Modi's new government on Thursday unveiled a reform-minded budget, vowing to lift economic growth to rates of 7-8 per cent by promoting manufacturing and infrastructure and overhauling populist subsidies.
Here is your 10-point cheat-sheet to this story
Finance Minister Arun Jaitley told lawmakers that he would uphold the "daunting" fiscal deficit target of 4.1 per cent of gross domestic product inherited from the last government, despite expectations he would be forced to raise it due to weak revenues and high subsidy costs. (Budget 2014: Highlights)

He indicated an overhaul of expensive subsidies for food, fuel and fertilizer that cost India's government some $40 billion or Rs 2.40 lakh crore a year. He gave no details other than saying the subsidies would be "more targeted." (Finance Minister Arun Jaitley Takes Break During Budget Speech)

Mr Jaitley said the government could not rely only on spending cuts to reduce the budget deficit and should also work to spur economic growth back to 7-8 per cent, which would result in higher tax revenue. He said that a revival of manufacturing and building of new infrastructure are ways to provide jobs. He announced programs to promote investment in factories, roads and ports. (Arun Jaitley Provides Big Relief to Income Tax Payers)

The government has hiked the tax exemption limit to Rs 2.5 lakh from Rs 2 lakh, providing a relief of Rs 5,000. Nearly two crore tax payers are expected to benefit.

Mr Jaitley said he would set up a high-level committee to review retrospective tax claims blamed for choking off foreign investment after companies such as Britain's Vodafone were hit with massive demands. The minister ought to reassure investors by promising a stable tax regime and saying the government would not "ordinarily" create new liabilities restrospectively, but stopped short of scrapping the law. (Finance Minister Doesn't Scrap Law on Retrospective Taxes)

Mr Jaitley said he would raise caps on foreign investment in the defence and insurance sectors from 26 per cent to 49 per cent, but still bar non-residents from taking majority control in projects to supply the world's largest arms buyer. Foreign contractors had sought a higher threshold to justify sharing technology when they locate operations in India. (Finance Minister Retains Fiscal Deficit Target at 4.1% of GDP)

In another signature initiative, the government expects to find a solution to implement the goods and services tax that will unify India's 29 states into a common market, a measure that economists say will boost revenue and at the same time make it easier to do business. Mr Jaitley promised that the government would be "more than fair" in its dealings with India's states on how revenue would be allocated.

Items that will now cost more are cigarettes (hiked by 11 to 72 per cent), aerated drinks and imported clothes. Colour TV and computers will be cheaper.

Investors have piled into Indian stocks on hopes that Mr Modi's leadership and mandate would break a logjam thwarting a host of reforms during the 10-year tenure of his predecessor Manmohan Singh, whose coalition government became increasingly divided.

The stock markets recovered towards the end of Mr Jaitley's speech, with the Sensex rising over 300 points and the Nifty gaining over 100 points.