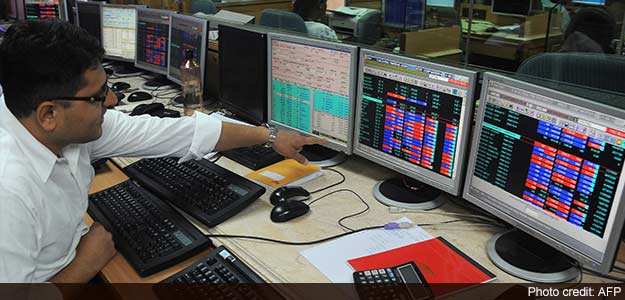 The Dalal Street witnessed extreme drama on Thursday before markets closed lower for a third straight day. In the process, the Sensex moved in a 800 point band, eventually ending just 72 points lower at 25,372. The Nifty fell 17 points to close at 7,568. (Also read: Rupee falls most in nearly one month)
The bluechip indices traded flat in early trade and picked up pace just as Finance Minister Arun Jaitley started reading his Budget speech. There was some excitement initially as Mr Jaitley said the government will try to find a solution to implement the goods and services tax (GST) by year end. The finance minister did not give a date for implementing the much awaited reform measure though, dampening sentiments.
Mr Jaitley's announcement on retrospective taxes, however, put a break on gains and the Sensex fell as much as 327 points within a few minutes in to the Budget speech.
Analysts had expected Mr Jaitley to scrap retrospective taxes, but the Finance Minister said he would set up a high-level committee to review tax claims under the law. The controversial amendment to the Income Tax Act was brought by the UPA government in 2012 and has emerged as the biggest deterrent for attracting foreign funds into the country.
The biggest surprise and trigger for gains today was Mr Jaitley's announcement that his government would retain the previous government's fiscal deficit target at 4.1 per cent of GDP.
"These measures are very progressive and good for the bond and equity markets. It would lead to reduction of inflation in coming years due to lower fiscal deficit," said Murthy Nagaranjan of Quanam Asset.
Mr Jaitley, however, did not elaborate on how the government will meet the tough challenge considering the UPA government had rolled part of previous year's subsidy to this fiscal.
Ratings agency Moody's said a lack of detail on how India would cut the fiscal gap made it "challenging to assess the credit impact" of Mr Jaitley's Budget, but still said it would keep its investment grade rating for India. (Read the full story here)
Mr Jaitley also hiked FDI limit in insurance and defence sectors and announced major steps for infrastructure development, which is a positive for L&T and IRB Infra.
The real winners today, however, were realty stocks, which surged after Mr Jaitley announced incentives on the establishment of real estate investment trusts (REIT). DLF, gained 9.2 per cent, while Prestige Estates Projects rose 7 per cent. (Read more)
VST Industries fell 18 per cent after the Finance Minister proposed to increase excise duty on cigarettes. Titan fell nearly 6 per cent after Mr Jaitley did not cut import duty on gold, contrary to expectations.
(With inputs from Reuters)