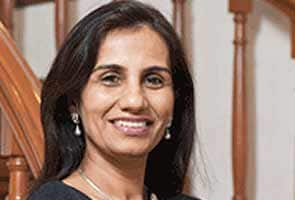 Mumbai:
As India awaits the first Union Budget by Modi government, top banker Chanda Kochhar has says it cannot ignore harsh realities like the tough fiscal situation as well as rising prices and would need "tight control" over both expenditure and populism.

Ms Kochhar, who heads ICICI Bank, the country's largest private sector lender, said the budget would need to provide clarity about the prospective nature of taxation, as also other rules and regulations, besides lining up necessary steps to clear the projects that have been struck to boost the investor confidence.

Finance Minister Arun Jaitley, who recently said that India has to make a choice between mindless populism and fiscal prudence, will present the budget on July 10.

This would be the first budget of the new government headed by Prime Minister Narendra Modi, who has also said recently that some tough decisions and strong measures are needed to bring financial discipline.

When asked what 'bitter medicines' people can expect from the budget, Ms Kochhar told PTI in an interview in Mumbai, "I think there are some realities that neither the budget can ignore nor we can ignore.

"The fact is that the fiscal situation is quite tight and so we need to take a proper stock of the fiscal situation... It is a fact that the oil prices are going up because of the Iraq issue and then we do not know how the food inflation would move given the current monsoon situation," she said.

"I am sure that when a responsible government makes the budget, no one can run away from these realities," she said, adding, "So, there will have to be a very tight control on both expenditure and populism."


"At the same time, one should also focus on what are positive steps that can be taken to increase the revenue side, and therefore one has to manage both the sides. Therefore, we need to kick-start generating cash flows... We would also have to look at how can be improve the supply side of food," she said.
"We also need to think what can we do to the entire agriculture chain to reduce the wastage, make distribution more efficient. That way also, we can reduce some pressure when it comes to food inflation."
Ms Kochhar further said that as far as the budget is concerned, "the other things that can be done are to give clarity about the prospective nature of taxation, and rules and regulations".
"I think that can again boost lots of confidence."
Asked about her views and the stance taken by foreign investors about the new government, she said, "If I talk from the global investors' point of view, they are watching the developments very closely. They are looking at what is happening in India and that they are doing with a lot of interest."