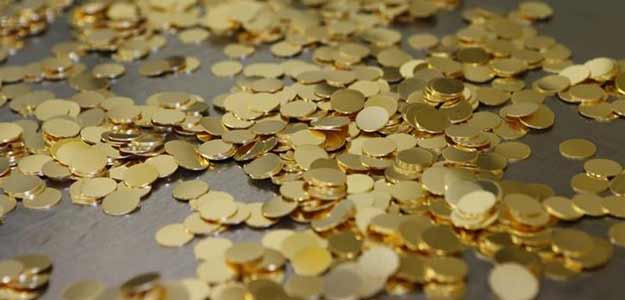 Mumbai/Singapore:
Government surprised bullion markets by keeping the import duty on gold and silver unchanged at 10 per cent in its fiscal budget, a move likely to limit overseas purchases by the second-biggest bullion consumer and further encourage smuggling.
Gold futures jumped 2 per cent on Thursday, widening the premium over global prices which had narrowed on the expectation of a duty cut.
Country's biggest gold trade group had said on Wednesday that the finance minister would likely cut the gold import duty to 6 percent in the newly elected government's first budget presentation.
"This will essentially force jewellers, who were on the sidelines expecting a duty cut, to re-stock," said Sudheesh Nambiath, senior analyst with Thomson Reuters GFMS.
Premiums should recover to $20-30 an ounce in the next few days, he said, against $10 on Wednesday.
India, desperate to trim a gaping current account deficit, took a slew of measures last year to curb demand for bullion, its second-biggest import after oil.
Besides the duty imposed by the finance ministry, Reserve Bank of India also imposed the so-called 80-20 rule that required a fifth of all bullion imports be re-exported.
The rules have crimped supply and pushed premiums up to as high as $160 an ounce in December.
Market expectations for a duty cut had climbed after the election of Narendra Modi as India's new prime minister less than two months ago.
PM Modi, who leads the Bharatiya Janata Party, had earlier indicated his willingness to remove the gold curbs, saying any action on gold should take into account the interests of the public and traders, not just economics and policy.
"Our expectations have not been met," said Pankaj Kumar Parekh, vice-chairman of the Gems and Jewellery Export Promotion Council, which groups more than 3,000 exporters. "We will take up the matter with the finance ministry."
Gold for August delivery on the Multi Commodity Exchange rose to as much as Rs 28,225, up 2.2 per cent. The contract traded at Rs 28,087 at 0847 GMT.
Indian gold imports plunged by a fifth last year though jewellery and investment demand rose 13 per cent, causing a spurt in smuggling.
The World Gold Council reckons that 200-250 tonnes of gold have been smuggled into India since the imposition of import controls. Only 2.5 tonnes of smuggled gold have been seized by law enforcement agencies, according to government officials.
Copyright: Thomson Reuters 2014