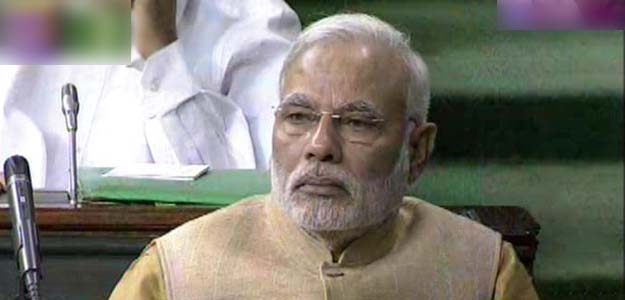 Highlights
India's new right-wing government under Prime Minister Narendra Modi unveiled its maiden budget on Thursday, promising a new era of fiscal prudence and greater opportunities for foreign investors in k
New Delhi:
India's new right-wing government under Prime Minister Narendra Modi unveiled its maiden budget on Thursday, promising a new era of fiscal prudence and greater opportunities for foreign investors in key sectors of the economy.

Finance Minister Arun Jaitley told parliament that the new right-wing government, in office since May, had inherited a "challenging" situation of low growth and high inflation from the previous Congress administration.

But he laid out what he said were broad indicators of the direction the government intended to travel in: towards lower government debt, more privatisation and greater openness to foreign investors.

Government overspending would be brought down dramatically in the next three years, with the fiscal deficit reduced to 3.0 percent in 2016/17 from a target of 4.1 percent this financial year, Mr Jaitley pledged.

"We cannot leave behind a legacy of debt for future generations," he said.

He said the budget was "the beginning of a journey to sustain seven to eight percent growth in the next three to four years."

Mr Jaitley also announced an increase in the permitted level of foreign direct investment in the defence and insurance sectors to 49 percent from 26 percent.

He also said the government intended to sell an unspecified amount of shares in the debt-laden public banks which are in need of fresh equity.

"The government will continue to hold majority ownership, but the citizens of India will get direct shareholding in these banks," he said.

But the Sensex, the leading index of the Bombay Stock Exchange, fell 0.99 percent to 25,193.55 points around noon as investors apparently reacted with disappointment to the absence of any sweeping structural reforms.


Markets were expecting that Modi's new government would use the budget to flesh out campaign promises to lift Asia's number-three economy from its longest stretch of sub-five percent growth in a quarter-century.
With two-thirds of India's 1.25 billion population living on less than $2 a day, according to World Bank figures, and worries about a below-average monsoon, Mr Jaitley said the government would continue to care for the poor.
But, taking up a theme repeated during election campaigning by Mr Modi, he argued that the poor had become newly aspirational and wanted job opportunities and better infrastructure, not just handouts.
"It is the poor that suffer the most," Mr Jaitley said. "We have to ensure that our anti-poverty programmes are well targeted."
- 'Maximum governance, minimum government' -
Growth has crashed from near double-digits a few years ago to 4.7 percent in 2013, marking the second straight year of sub-five percent expansion amid high interest rates, falling investment and wage-eroding inflation.
The finance ministry's India Economic Survey forecast Wednesday the economy could expand 5.4-5.9 percent this year, but cautioned the patchy annual rains, running at 42 percent below average, threatened growth.
Since taking charge after a landslide win over the left-leaning Congress, swept out by voters angry about weak growth and scandals, Mr Modi has sent strong signals he will pursue his "Modinomics" agenda of "maximum governance, minimum government".
Mr Modi has consolidated ministries and scrapped cabinet panels to streamline administration and speed decisions.
Mr Jaitley has criticised "mindless populism" burdening public finances.