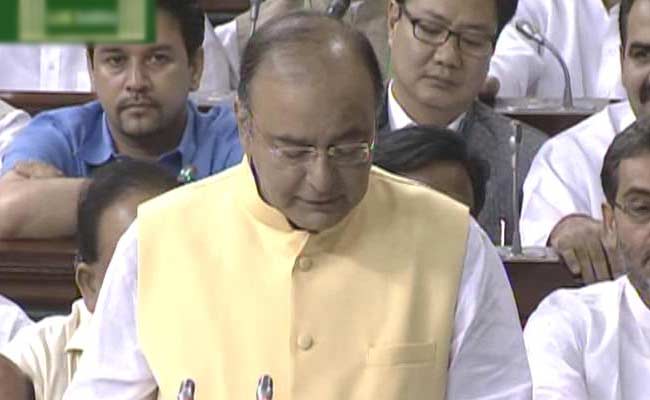 Highlights
Finance Minister Arun Jaitley wasted no time on preambles or poetry as he unveiled a first budget today of structural reforms that seek to revive growth, while spurning the temptation to resort to hig
New Delhi: Finance Minister Arun Jaitley wasted no time on preambles or poetry as he unveiled a first budget today of structural reforms that seek to revive growth, while spurning the temptation to resort to higher borrowing. (Budget 2014: Highlights)

Expectations had been high that the Narendra Modi government would convert the strongest election mandate in 30 years into radical steps comparable to the 1991 market reforms that unleashed an era of high economic growth. (Arun Jaitley Provides Big Relief to Income Tax Payers)

But constrained by a two-year spell of growth of less than five percent, the government instead announced incremental steps to boost capital spending and reassure foreign investors that they would get fair treatment. (Sensex Up Over 400 Points)

The markets, that had been flat since morning as they held their breath, cheered when the Finance Minister vowed to adhere to the "daunting" budget deficit target of 4.1 percent of the GDP this fiscal set by his predecessor. (Finance Minister Arun Jaitley Takes Break During Budget Speech)

"I have decided to accept this challenge - one fails when one stops trying," Jaitley told a hushed Lok Sabha.

He said the budget deficit would be reduced to 3.6 per cent in the following two fiscal years, but gave no details other than saying that subsidies would be "more targeted." (Finance Minister Sparks Confusion on Fiscal Deficit Target)

Dr Mammohan Singh, former Prime Minister and the architect of the 1991 reforms, later said of Mr Jaitley's budget, " I am happy the Finance Minister is keeping to the fiscal deficit target, and hope he achieves it". (Budget 2014 Lacks in Specifics, Says Dr Singh)

Analysts welcomed Mr Jaitley's pledge to keep government finances in check but said the lack of details on how to narrow the fiscal deficit made it challenging to assess the credit impact. The markets echoed the sentiment; the Sensex closed 72.06 points down and Nifty fell by 17.25 points. (Sensex Yo-Yos 800 Points on Budget Day, Ends Lower)


The Finance Minister began his long, brisk speech -- which saw an unprecedented adjournment of the House when he requested a five-minute break because of a severe backache -- by stressing on fiscal prudence, making it clear that "we cannot spend beyond our means." (
Union Budget: What You Liked and Disliked Most
)
To encourage savings, Mr Jaitley said as he reached his tax proposals, he announced some relief for individual tax payers, though he left tax rates and slabs unchanged.
He promised more clarity on the goods and services tax (GST) before the year end.
He also said he would raise caps on foreign investment in the defence and insurance sectors, but still bar non-residents from taking majority control in projects to supply the world's largest arms buyer.
To ensure the modernisation of the military, the government has budgeted Rs. 94,588 crores, Rs. 5000 crore more than what was sanctioned by the previous government in February. (
Modinomics Gives Big Boost to Defence Services
)
He proposed setting up five more IITs, five more IIMs, allotting Rs. 500 crore for this. Mr Jaitley also reiterated his government's commitment to providing 24x7 electricity and sanitation in all homes.
PM Narendra Modi won the election in May with a pledge to create jobs for the one million people who enter the country's workforce every month. Since taking office in May, he has warned that Indians should expect "bitter medicine".