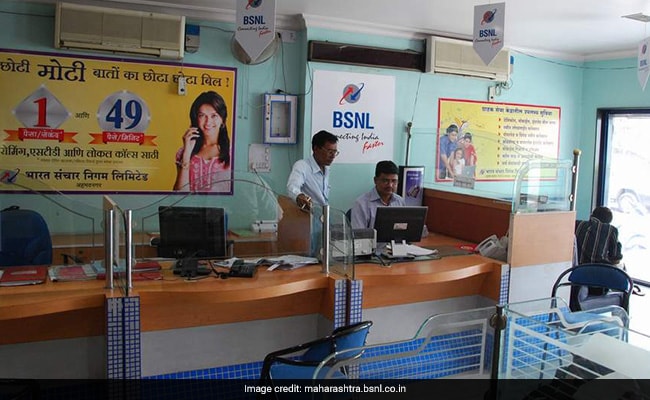 Highlights
BSNL offers full talktime, 50% extra on Rs 290, Rs 390, Rs 590 top-ups
Rs 435 talk value on top-up of Rs 290, says BSNL
BSNL Diwali Laxmi offer available till October 21, 2017
BSNL or Bharat Sanchar Nigam Limited is offering full talktime along with 50 per cent extra talktime on select recharges in a limited-period scheme. Ahead of Diwali 2017, BSNL has announced "50 per cent extra than Full Talk Time" on mobile top-ups priced at Rs 290, Rs 390 and Rs 590, the state-run telecom company said on its website - bsnl.co.in. BSNL customers buying and applying any of the recharge coupons on their mobile connections will get 150 per cent value as talktime, according to the BSNL website.
BSNL Diwali Laxmi offer
Giving an example, BSNL said: "Talk Value of Rs 435 will be given on the Top-Up of Rs. 290." BSNL's 'Diwali Laxmi' offer is available from October 16, 2017 to October 21, 2017, it added.
BSNL said the Diwali Laxmi offer is available with three top-ups only - Rs 290, Rs 390 and Rs 590.
The Laxmi offer by BSNL comes on the back of its 'Dussehra Vijay' offer, another limited-period scheme, under which the company is offering "50 per cent money back in main account" on select recharges.
BSNL Dussehra Vijay offer
Under its Dussehra Vijay offer, BSNL customers buying the STVs or special tariff vouchers of Rs 42, Rs 44, Rs 65, Rs 69 and Rs 122 will get reduced call rates, according to the BSNL website.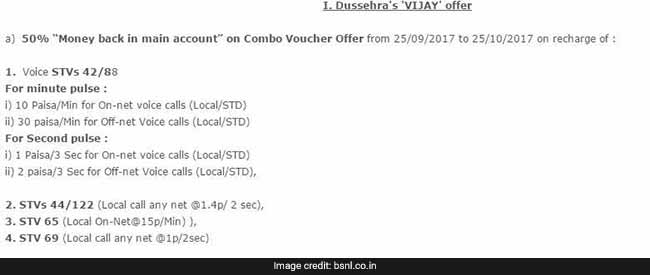 (BSNL explains the benefits offered under its Dussehra Vijay offer on its website)
"This offer is not to be implemented through Self Care/USSD/SMS mode of recharge," BSNL added. BSNL's Dussehra Vijay offer is available till October 25, 2017.