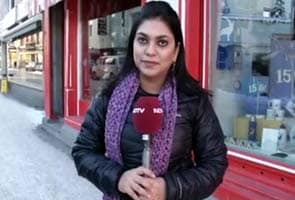 (Shweta Rajpal Kohli is Editor-Economic Affairs at NDTV)
New Delhi: If you are a Davos regular, chances are you wouldn't have missed the India Adda. Every year, at the World Economic Forum Annual meeting at Davos, Switzerland, the Indian government turns a part of the famous Cafe Schneider on the Promenade into a networking hub for Indian ministers and business leaders.
And while many global leaders throng the Adda to get nuggets on India's economy and opportunities, the bigger attraction is always what's on the menu, literally! Steaming hot Indian snacks, with tea, coffee and spices being served round the clock. Not surprisingly, its a huge draw in those sub-zero temperatures!
Move over India Adda. The Modi government has now decided to do away with the Adda legacy (in many ways identified with the UPA's presence at Davos) and rechristen the space as the Make In India Lounge to highlight and promote the Prime Minister's pet project.
"A bold on ground campaign is being planned this time which would include hoardings and bus wraps. The idea is to splash the Make in India symbol all over Davos," Aparna Dutt Sharma, CEO, India Brand Equity Foundation (IBEF) told NDTV. IBEF, a trust established by the Ministry of Commerce creates global awareness about Indian products and services.
"We have already received a huge response to the initial mailers sent out. The mood is very positive on India," Sharma said.
Many believe India will be the star at Davos this year.
As Mark Spelman, Managing Director, Accenture Strategy told the European CEO, said, "India is the most interesting country at the moment on the planet. People are very interested in what Modi is going to achieve and do and Davos is a fantastic way of really understanding that in a more holistic approach." Spelman says India will be very much the focal point, a "particular star at this year's Davos."
So as Team Modi gears up to make a huge India impact at this annual jamboree of movers and shakers in the Swiss Alps, perhaps world leaders waiting to see what will be on the offer at the Make in India Lounge.