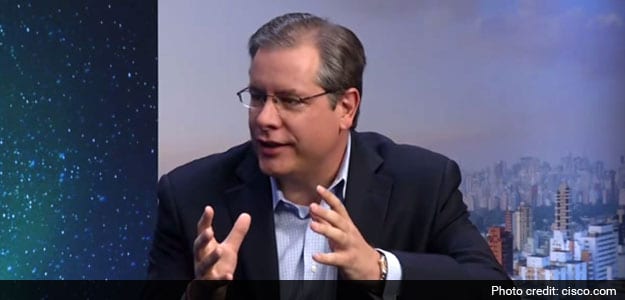 Toronto
: BlackBerry Ltd named Carl Wiese as head of global sales on Monday, an appointment that comes at a critical juncture for the smartphone industry pioneer, which needs to spur top-line growth in order for its turnaround efforts to succeed.
Mr Wiese has spent the past 12 years at Cisco Systems, first heading advanced technology sales and later its collaboration-product sales efforts. Those teams focus on aspects such as security and web conferencing, areas that BlackBerry is trying to expand within.
At BlackBerry, Mr Wiese replaces John Sims, who had been with the company for 18 months.
BlackBerry said Mr Wiese, who has previously worked with Apple Inc, Avaya, Lucent and Texas Instruments, will be responsible for driving its go-to-market strategy and global sales efforts.
"Carl has extensive experience in enterprise software and emerging technology solutions, which will be instrumental as BlackBerry moves toward stabilizing revenue," BlackBerry chief executive John Chen said in a statement.
The move comes less than three weeks after BlackBerry posted weaker-than-expected sales growth from its software business in the first quarter.
Mr Chen, who set a software revenue target of $500 million for the current fiscal year, has built his turnaround plan around a software growth strategy, hoping sales from device-management software and fledgling areas like the Internet of Things can replace BlackBerry's traditional service fee structure and falling revenue from smartphone sales.
Mr Chen indicated last month that he remains comfortable with the $500 million revenue target, and noted that some of that growth is set to come from acquisitions.
Although quarterly software revenue more than doubled year-over-year, much of the growth came from two patent cross-licensing deals. This spooked many investors, who disappointed by the weaker-than-expected core software growth, sent shares in BlackBerry tumbling to a 13-month low on the Nasdaq last week.
Ontario-based BlackBerry also backed away from a separate $100 million target for revenue from its BlackBerry Messenger service.
Some analysts have long been skeptical about the viability of BlackBerry's software revenue targets.
When Mr Chen went over the company's sales targets at an analysts' event in San Francisco last November and received pushback from some analysts, he laughed and said if targets are not met, he would still be around next year, but some of his team might not.
BlackBerry declined to comment on whether Sims' departure was tied to weaker-than-expected software revenue growth.
BlackBerry is also widely expected to debut a new Android-based smartphone this year in an attempt to boost its hardware sales.
© Thomson Reuters 2015