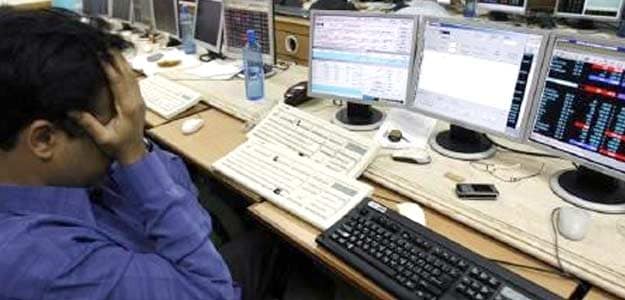 The BSE Sensex crashed 905 points in intraday trade on Tuesday, tracking a sharp selloff across global markets. The Sensex ended 855 points lower at 26,987, its biggest one-day point fall since July 6, 2009 . Domestic brokerage RKSV said Tuesday's crash was the eighth biggest single-day fall in Indian stock markets. (Read)
These are the five big reasons for Tuesday's crash, according to analysts:
1) Crude oil prices continued to fall with Brent hitting a low of $51.23 a barrel on Tuesday, its lowest level since May 2009. Cheap oil is good for India as the country imports nearly 80 per cent of its energy needs, but the over 50 per cent plunge in oil prices since June has also raised deflationary fears in many countries. (Read)
"This (low prices) is great news for motorists, but it presents a headache for policy makers," ANZ analysts said in a note.
G. Chokkalingam of Equinomics told Reuters that markets are reading the slide in crude oil prices as a symptom of potential recession in the world economy.
2) The talk of Greece crashing out of the euro zone has put the spotlight back on eurozone, which is a major trade partner for the US, Eastern Europe and Asia. "Worries on Grexit (Greece exit) casting spell on markets across. Local markets too would follow the suit though conditions are ripe to build up portfolio," tweeted Motilal Oswal.
In an article for Reuters, market expert Ambareesh Baliga wrote, "Troubled international economies and the consequent worldwide slowdown helped bring down commodity prices. But 2015 could open up worries on the export front for India as more economies start to wobble."
3) Foreign funds, which aggressively bought Indian stocks last year, are booking profits amid a "risk-off" strategy. In December, foreign institutional investors pumped in just Rs 2,100 crore in domestic equities, making it their lowest investment in 10 months. Funds are flowing back to stronger economies such as US, where bond yields are back below 2 per cent for the first time since October, analysts say. On Tuesday, FIIs sold shares worth Rs 1,571 crore in the cash market.
4) Independent analyst Sarvendra Srivastava told NDTV that a correction was long overdue as markets seldom move in one direction. The Nifty gained 31.4 per cent last year, its best gain since 2009. Mr Srivastava expects the Nifty to consolidate around 7,800 before making the next up-move.
Anil Manghnani of Modern Shares & Stock Brokers said, "Tuesday's fall does not signal the end of bull market, it's just a corrective phase within a bull market."
5) Finally, index heavyweights such Reliance Industries and Infosys witnessed strong selling, dragging the broader indices down. RIL (second most influential stock in Nifty) ended 4.5 per cent lower today because falling crude oil prices are likely to impact its margins. Infosys, which has the second largest weightage in Nifty, closed 2.1 per cent down ahead if its quarterly earnings on Friday. IT companies are expected to post flat revenue growth because of the strength in the US dollar.
(With agency inputs)