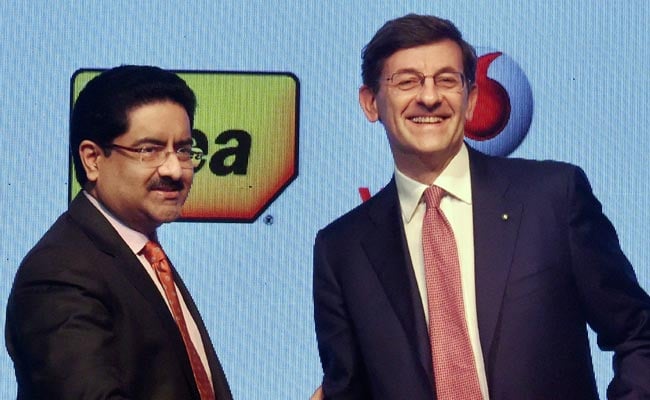 Britain's Vodafone Group and Idea Cellular agreed on Monday to merge their Indian operations to create the country's biggest telecoms business. The merger attempts to contest a brutal price war sparked by new rival, Mukesh Ambani's Jio. "The combined company would become the leading communications provider in India with almost 400 million customers, 35 percent customer market share and 41 percent revenue market share," said the firms in a joint statement. The joint venture will have a combined enterprise value of $23.2 billion. Here is your 10-point cheat-sheet to this big story:
Here are ten developments
Kumar Mangalam Birla, the chairman of the Aditya Birla Group, the majority owner of Idea, has ruled out any major downsizing at the telecom after the merger.
Vodafone and Idea brands will operate separately after the merger, since they are both strong brands individually, said Vittorio Colao, who is the chief executive of Vodafone.
India's mobile industry was thrown into turmoil with the launch last year of Reliance Jio Infocomm, the new 4G mobile broadband network built at a cost of more than $20 billion by India's richest businessman, Mukesh Ambani.
The 4G Jio network launched in September with an audacious free service for the rest of 2016, followed by vastly cheaper data plans and free voice calls for life.
It forced rivals to dramatically slash their tariffs and left them scrambling to match the deep pockets of Jio, which is backed by India's hugely wealthy energy-to-chemicals conglomerate Reliance Industries.
Jio has made an impact with free voice calls and cut-price data services, forcing India's three biggest operators - Bharti Airtel, Vodafone and Idea - to slash prices and accept lower profits.
Vodafone has endured a tumultuous ride since it entered India in 2007, with fierce competition and a high-profile tax battle making a business contributing more than 10 percent of its revenues and profits its most unpredictable by far.
Vodafone will hold 45.1 percent of the merged entity after it transfers a 4.9 percent stake to Idea backers for Rs 3,900 crore in cash.
Idea will hold 26 percent in the combined company and the merger will take up two years to complete. The agreement excludes Vodafone's 42 percent stake in Indus Towers.
Idea would have the sole right to appoint the chairman, while Vodafone would appoint the chief financial officer.