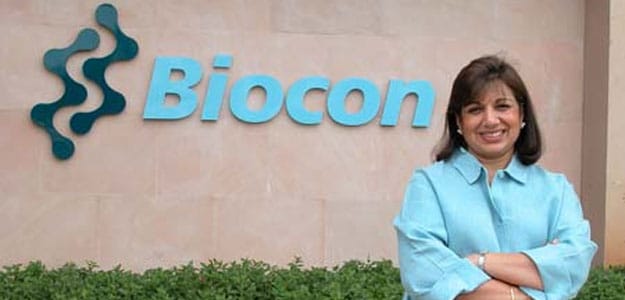 Abu Dhabi:
India's biggest biotech firm Biocon Ltd expects revenue to double to $1 billion in four years as it expands in Europe and the United States with new products, its chairperson and managing director said on Saturday.
In a tie-up with U.S. generic drugmaker Mylan NV, the Bengaluru-based biopharmaceutical firm has five biosimilar products - almost identical copies of original drugs - entering global regulatory approval stage which is expected to take about 18-20 months.
"We forecast that by financial year 2019 our revenues will be $1 billion with 25 per cent coming from research and 75 per cent from rest of our business," Kiran Mazumdar-Shaw told Reuters on a business visit to Abu Dhabi.
Biocon's revenues were a little less than $500 million for fiscal 2014-15, she said.
Of the 70 per cent of the products that it exports, the United States and Europe account for 50 per cent.
Biocon has invested over $200 million in research and development to develop biosimilars at its Malaysia facility, currently in its commissioning phase, she said.
The firm has lost business in some Middle East markets due to turmoil in the region, particularly Syria where Biocon had high sales.
Sales in Lebanon, Egypt and Iran also fell but there were signs of recovery in Egypt, said Shaw, who started Biocon out of a garage in 1978 in Bangalore.
She declined to give specific sales figures for Syria or the other Middle East markets. The Middle East and north Africa markets account for about 6 per cent of Biocon's exports.
To offset those markets, Biocon has been focusing through aggressive marketing in north African markets such as Algeria, Morocco and Tunisia as well as markets in central and south-east Asia and Latin America.
Shaw also said Biocon could divest further in its research and manufacturing arm Syngene in 2016 once the latter reaches strong growth.
"It won't happen this fiscal, we are looking at next year," she said without giving details.
Biocon has a stake of 74 per cent in Syngene after it divested 11 per cent via an initial public offering.
© Thomson Reuters 2015