A recent report by international NGO Oxfam says it would take Microsoft cofounder Bill Gates nearly 218 years to spend his entire money, if he spends $1 million (Rs 6 crore) per day.
Drawing the spotlight at the rising inequality of wealth, Oxfam estimates that the richest 85 people on the planet owned as much wealth as the poorest half of humanity. "Between March 2013 and March 2014, these 85 people grew $668 Million (Rs 4000 crore) richer each day," the report said.
The report however praised Bill Gates for his philanthropic efforts, saying, "The decision of Bill Gates and Warren Buffet to give away their fortunes is an example to the rest of the world's billionaires."
The report ranks Bill Gates as the second richest in the world, pegging his wealth at $80 billion (Rs 4.8 lakh crore). "In reality though, he would never run out of money: even a modest return of just under two per cent would make him $4.2 million (25 crore) each day in interest alone," adds the report.
The Microsoft cofounder is ranked next to the Mexican billionaire Carlos Slim, for whom it would take 220 years to spend his entire wealth, says the report. (See the table below)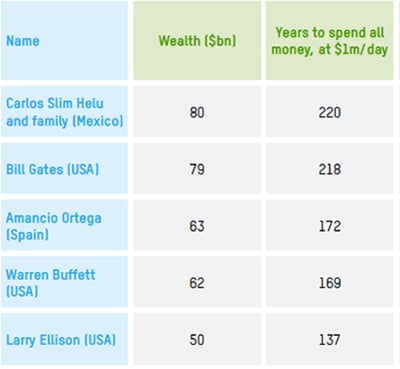 Source: Oxfam/Forbes
Titled 'Even it Up: Time to End Extreme Inequality' the report analyses economic inequality across the world.
Also drawing attention to the economic inequality in India, the report says, "Despite being a country ravaged by poverty, the number of billionaires in India has soared from two in the mid-1990s to 65."
"The net worth of India's billionaires would be enough to eliminate absolute poverty in the country twice over," it adds.
($1 = Rs 60)