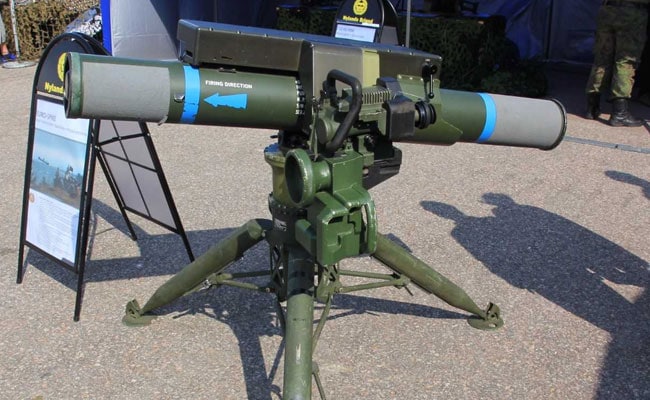 Bharat Dynamics offered the public issue of 2.245 crore shares. The Hyderabad-based company's issue opened on Tuesday and was subscribed 56 per cent on Thursday, which is the last and third day of subscription. Bharat Dynamics is one of the leading defence PSUs (public sector undertaking) engaged in the manufacture of surface to air missiles (SAMs), anti-tank guided missiles (ATGMs), underwater weapons, launchers, countermeasures and test equipment. The company is the sole manufacturer in India for SAMs, torpedoes, ATGMs. The bid running lead managers are SBI capital markets Ltd, IDBI capital, Yes Securities and Alankit.

Bharat Dynamics IPO: Ten Things To Know

1. Bharat Dynamics is under the administrative control of the ministry of defence and was conferred the 'Mini-ratna (Category -1)' status by the Department of Public Enterprises. The company's public offer started on March 13 and will close on March 16.


2. The price range of the issue is Rs 413 and 428. The floor price is 41.3 times the face value and the cap price is 42.8 times the face value.
3. Maximum subscription for retail investors is Rs 2,00,000, while minimum order quantity is 35 shares.
4. Bharat Dynamics is primarily dependent on a single customer, the Indian armed forces through the Ministry of Defence. A decline or reprioritization of the Indian defence budget, the reduction in their orders, termination of contracts or failure to succeed in tendering projects and deviations in the short term and long term policies of the MoD or the Indian armed forces in the future will have a material adverse impact on its business, financial condition, and results of operations, growth prospects and cash flows.
5. A total of 1.3 times of the issue has been subscribed. Out of the total bids of 2,24,51,953 bids, Bharat Dynamics received 2.92 crore bids while the total bids received at cut-off price are 91 lakh.
6. The price equity (P/E) ratio ranges between 19.15 and 19.84 times for the lower end and upper end, respectively.
7. The basic, diluted earnings per shares (EPS) for the past three years stand at 38.8.
8. The company has three manufacturing facilities located in Hyderabad, Bhanur and Vishakhapatnam.
9. As of January 31, 2018, company's outstanding order book was Rs 10,543 crore. We have delivered consistent growth over the last five financial years both in terms of financial and operational metrics.
10. Total net profit of Bharat Dynamics for the fiscal 2017 was Rs 490 crore against Rs 562 crore in fiscal 2016.