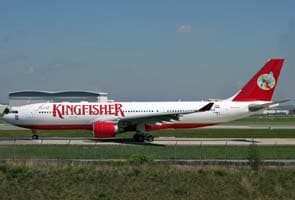 New Delhi: The government on Thursday said some banks have initiated the process of declaring debt-ridden Kingfisher Airlines as a wilful defaulter.
"Some banks have already started the process," Financial Services Secretary G S Sandhu said when asked whether the banks are going to declare Kingfisher Airlines and its promoter Vijay Mallya as wilful defaulters.
Once a company is declared a wilful defaulter, criminal proceedings can be initiated against its promoters and directors. Besides, they would also not be allowed to raise fresh funds from banks and set up new ventures for five years.
"This (declaring wilful defaulter) would be done by banks and it would be their individual decision," Mr Sandhu added.
As per Reserve Bank of India (RBI) guidelines, it would have to be proven that the borrower had diverted funds taken from the bank and not paid up despite having the ability to pay.
A State Bank of India-led consortium of 17 lenders has an outstanding debt of about Rs 4,022 crore from the now-grounded airline.
Kolkata-based United Bank of India was the first PSU lender to initiate the process of declaring Vijay Mallya and three other directors on the grounded Kingfisher Airlines as wilful defaulters.
The SBI-led consortium of lenders has also initiated the process of recovery.
As part of the recovery process, banks in February last year decided to sell a portion of the collateral with them, including shares of group companies United Spirits Ltd and Mangalore Chemicals & Fertilizers Ltd, Mr Mallya's Goa villa, Kingfisher House in Mumbai and the Kingfisher brand, which was valued at over Rs 4,000 crore at the time it was pledged.
The banks seeking possession and sale of the property are State Bank of India, Axis Bank Ltd, Bank of Baroda, Bank of India, Central Bank of India, Corporation Bank, Federal Bank Ltd, IDBI Bank Ltd, Indian Overseas Bank, Jammu & Kashmir Bank Ltd, Punjab & Sind Bank, Punjab National Bank, State Bank of Mysore, UCO Bank, and United Bank of India.
The airline had moved the Supreme Court challenging the Karnataka High Court's January 29 verdict that allowed the banks' consortium to take possession of Kingfisher House.
However, earlier this week Kingfisher Airlines withdrew in the Supreme Court its appeal against Karnataka High Court's verdict allowing the consortium to take possession of the property.