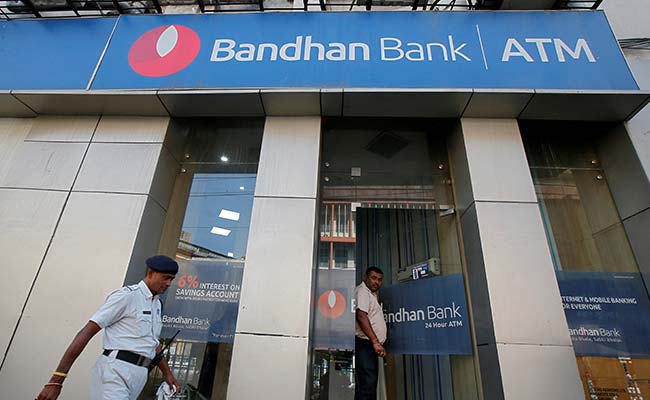 Bandhan Bank shares jumped more than 5 per cent on Thursday, extending recent gains to a third straight session. Advances in Bandhan Bank share price were amid high volumes. Bandhan Bank had during market hours on Wednesday reported earnings for the April-June period. Kolkata-based Bandhan Bank posted a 47 per cent increase in net profit at Rs 482 crore ($70.32 million) for the quarter ended June 30, as against Rs 327 crore a year ago. Analysts say that Bandhan Bank's strong performance in Q1 helped by higher interest income gave a further boost to the lender's shares.
Here are 10 things to know:
Bandhan Bank shares opened at Rs 598 on Thursday, slightly lower from the previous day's closing price of Rs 600.15.

In intraday trade, Bandhan Bank shares rose to as much as Rs 632.40. At that level, it meant a gain of more than 12 per cent in two days.

Bandhan Bank shares traded with large volumes. By 2:43 pm, 4.3 lakh Bandhan Bank shares had changed hands on stock exchange BSE, compared with a two-week average of 1.4 lakh.

Bandhan Bank's gross NPAs - or gross bad loans - as a percentage of total loans stood at 1.26 per cent at the end of June, compared with 1.25 per cent in the previous quarter and 0.93 per cent a year earlier. Net NPAs were at 0.64 as against 0.58 per cent at the end of the previous quarter.

NII or net interest income grew 39.5 per cent to Rs 1,037 crore from Rs 743 crore in the year-ago period, Bandhan Bank said in a regulatory filing on Wednesday.

Bandhan Bank managing director and CEO Chandra Shekhar Ghosh said: "The start of FY19 has been promising with advances growing 52 per cent year-on-year, overcoming the seasonality, which we normally witness during the first quarter."

Bandhan Bank is set to complete three years of operations in August this year.

In its regulatory filing, Bandhan Bank said it would continue to focus on micro-credit financing and retail loans going forward. Micro-credit constituted 85 per cent of the total advances of the lender.

Bandhan Bank shares listed on stock exchanges BSE and NSE in March this year.

Bandhan Bank has a network of 937 branches and 475 ATMs, as of June 2018.