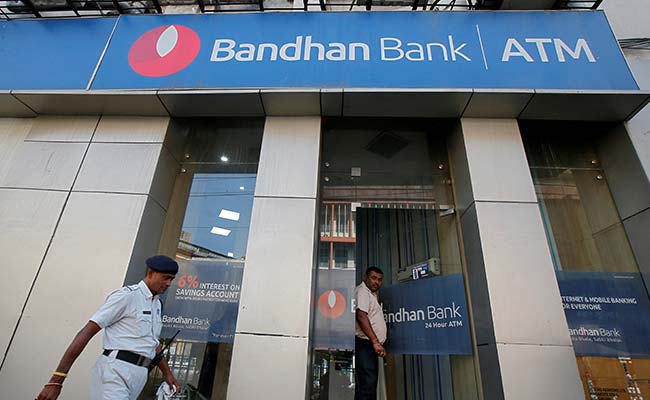 Highlights
The price range of Bandhan Bank IPO is between Rs 370 and Rs 375
Bandhan Bank will sell 119.28 million equity shares
Bandhan Bank P/E Ratio in relation to price band is around 36.95
Bandhan Bank's Rs 4,500 crore initial public offering (IPO) opened on Thursday (March 15) and closed on March 19. The bank sold 119.28 million equity shares, comprising a fresh issue of up to 97.66 million equity shares, and an offer for sale (OFS) of up to 14.05 million equity shares by IFC, and up to 7.5 million equity shares by IFC FIG. Bandhan Bank has 840 branches and 282 ATMs. Its CASA ratio is 29.4 per cent. The bank has deposits to the tune of Rs 23,230 crore, and they grew at the rate of 92.2 per cent. "Bandhan Bank provides attractive and profitable expansion opportunities. It's extensive, low cost distribution network with enhancement in digital platform to improve customer acquisition and retention would add to its future business potentials," said AUM Capital. Keeping these factors in mind, AUM Capital recommended shareholders to subscribe the issue for medium to long term perspective.
Here are 10 things to know about Bandhan Bank IPO:
Bandhan Bank IPO was subscribed 14.62 times of the total issue on the final day of subscription. It received 121.81 crore bids out of a total of 8.34 crore issue size, data from the NSE showed. The price range of Bandhan Bank IPO is between Rs 370 and Rs 375. The bids can be made for a minimum of 40 equity shares and in multiples of 40 equity shares thereafter. The maximum subscription amount for retail investor is Rs 2,00,000.

Bandhan Bank was incorporated on December 23, 2014 and began operations on August 23, 2015. Since the bank has a limited operating history as a bank and accordingly, Bandhan Bank financial statements as a bank are available since August 23, 2015.

Bandhan Bank IPO opened on March 15 and the last date to subscribe to it was March 19 (today). The bidding timings were from 10 am to 5 pm.

Bandhan Bank's earnings per share (EPS) for past three fiscal years 2017, 2016 and 2015 are 10.15, 3.4 and 0.01, respectively. The EPS for Axis Bank, HDFC Bank, IndusInd Bank and ICICI Bank are 16.54, 59.95, 48.06 and 17.51, respectively.

The P/E ratio in relation to price band of Rs 370 to Rs 375 per equity share ranges between 36.45 and 36.95.The corresponding ratios of Axis Bank, HDFC Bank, IndusInd Bank and ICICI Bank are 35.88, 33.47, 36.5 and 20.16, respectively.

Average return on net worth on Bandhan Bank is 25 per cent for fiscal 2017 and 8.25 per cent for fiscal 2016. The corresponding ratios of competitors Axis Bank, HDFC Bank, IndusInd Bank and ICICI Bank are 7 per cent, 16.65 per cent, 13.90 per cent and 10.84 per cent, respectively.

The book running lead managers for the issue were Kotak Mahindra Capital Company, Axis Capital, Goldman Sachs Securities, JM financial and JP Morgan India.

Bandhan Bank IPO had an array of risks attached. One of the challenges that lies ahead of the banking corporation is the one related to expansion. If Bandhan Bank is unable to manage growth associated with the expansion of branches, ATMs and DSCs effectively, its financial, accounting, administrative and technology infrastructure, as well as business and reputation could be adversely affected.

Another limitation pertaining to Bandhan Bank's lack of growth potential lies in the fact that a substantial portion of its operations are concentrated in East and Northeast India, making it vulnerable to risks associated with having geographically concentrated operations. Eastern India has 54 per cent of branches while northeast India has 11 per cent of branches.

Micro-credit lending has its own unique risks and, as a result, Bandhan Bank may experience increased levels of non-performing loans and related provisions and write-offs that negatively impact its results of operations.
Post a comment