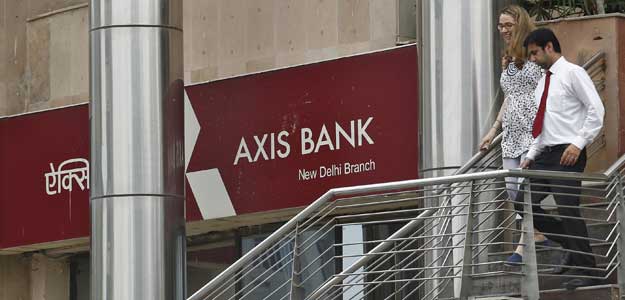 Mumbai
: Axis Bank, the country's third largest private sector lender, has hit the international debt markets with its maiden green bond issue to raise $500 million, market sources said on Monday.
The unsecured senior bonds issue is rated by all the three international ratings agencies.
Axis Bank is the fifth domestic institution to sell green bonds, with the first being Yes Bank in February last year, that garnered Rs 1,000 crore through rupee-denominated green bonds, followed by IDBI Bank and Exim Bank.
Axis Bank has roped in six investment bankers for the deal - Bank of America-Merrill Lynch, Citi, Credit Agricole, HSBC, JP Morgan and StanC. However, none of the bankers was available for comments and so was Axis Bank spokesperson.
Green bonds are like any other debt instrument, but the funds raised are used exclusively for renewable energy projects. Global green bonds markets are worth around $23 billion now, while the domestic market is over Rs 8,700 crore.
Sources said Axis Bank's issue, which is already in the markets and is likely to be closed later in the day, will raise at least $500 million from the international market, making it the first such issue for the lender.
"The lender has given an initial pricing guidance of 170 basis points over the US Treasury," said a source.
In a note, assigning a 'Baa3' rating to the issue, Moody's Investor Services said the proposed notes is part of the bank's $5 billion global medium-term note programme.
"The drawdown will be carried out from its Dubai International Financial Centre branch, and Axis Bank will allocate the net proceeds from the sale of the notes for the financing of eligible green projects," Moody's said, adding that the instrument will have a 5-year maturity and will be listed on the Singapore Exchange and the London Stock Exchange.
S&P, too, has given a similar rating of 'BBB-' long-term issue rating to a proposed issue of dollar-denominated notes. Fitch Ratings also assigned a 'BBB-/stable' ratings to the issue and said this is the first green bond issuance from the bank.
The demand for green funds has been on the rise in recent past, with the government increasing its focus on renewable energy in a big way and encouraging the private sector as well to do so.
The government has set a target of installing 100 GW of solar power capacity and 60 GW of wind power by 2022. The total installed capacity of renewable energy in the country stands at 30 GW now, of which wind accounts for 24 GW, solar contributes 5 GW, and the rest comes from other sources.