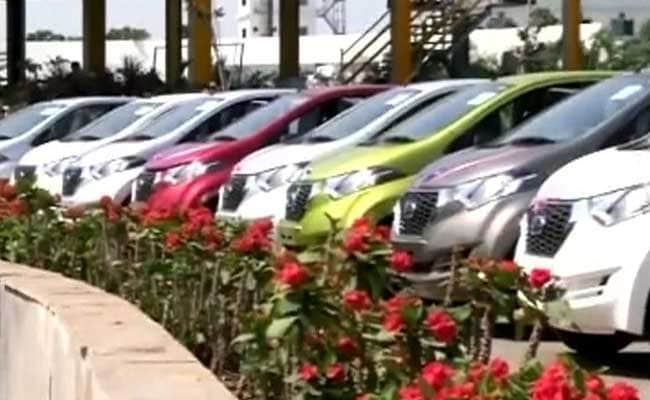 Mumbai:
Mahindra & Mahindra said monthly domestic sales plunged in November, as an intense cash crunch impacting the country brought a recent recovery in consumer demand to a screeching halt, especially in rural areas.
Mahindra, which specialises in tractors and SUVs, said sales in November slumped 24.3 percent to 29,814 from the previous year and down 38.8 percent from October.
Monthly sales from trucks manufacturer Ashok Leyland Ltd and tractor maker Escorts gained from a year earlier but fell 23.6 percent and 45.8 percent, respectively, from October.
The monthly sales numbers from the automakers offer the first tangible evidence of the cash crunch's impact on company results in India.
A pick-up in consumer demand for big-ticket items such as cars had been a bright spot for India's economy, helping send gross domestic product to an annual expansion of 7.3 percent between July and September, the fastest rate for a large economy.
But Prime Minister Narendra Modi's surprise move on Nov. 8 to ban 500 and 1,000 rupee denominated notes, which accounted for 86 percent of currency in circulation, has severely dented the confidence of consumers.
"While we expected an improved auto industry performance on the back of the festive season and other positive parameters such as rural demand and interest rates softening, the sudden announcement of demonetisation has brought in an immediate disruption and uncertainty," said Pravin Shah, president and chief executive (automotive) of Mahindra.
Other automakers will report November sales numbers later on Thursday and in the coming days.
Analysts say sales of two-wheelers and tractors in rural areas will be impacted the most given the strong reliance on cash outside of India's cities. For example, Credit Suisse estimates around 40 percent of two-wheelers' purchases are financed by cash.
Cars, especially more premium ones, are mainly financed with non-cash, but nonetheless are still expected to suffer from reduced sales because of weak consumer sentiment.
On the ground, dealers back up that premise.
In Guwahati, the largest city in India's remote northeast, a Toyota showroom that only a few weeks ago was bustling with customers looked desolate during a visit this week as young sales executives impatiently waited for the next customer.
"Earlier we sold anything between 60 to 70 vehicles a month, but post-demonetization the sales have come down drastically by more than 50 percent," Dip Bayan, senior sales manager of Gargya Autocity Pvt Ltd, the largest Toyota dealer in the northeast, told Reuters.
However, among monthly results so far, Maruti Suzuki Ltd bucked the trend, saying on Thursday monthly domestic sales rose about 14.2 percent year-over-year in November, and rose 2.1 percent month-over-month.
The auto sales, though, reflect vehicles dispatched to dealers, and not final sales, and analysts said overall numbers can differ depending on how companies decide to allot inventory.
The drag in sales could last till the end of the fiscal year in March, analysts said, though they expected consumers to start purchasing autos and other big ticket items as cash conditions improve over the coming weeks or months.
"It (demonetisation) is unlikely to bring in some sort of demand destruction. What we are talking about is shifting of demand from one month to another one," said Anil Sharma, principal analyst with IHS Automotive in Gurugram, in the outskirts of Delhi.
© Thomson Reuters 2016
(This story has not been edited by NDTV staff and is auto-generated from a syndicated feed.)