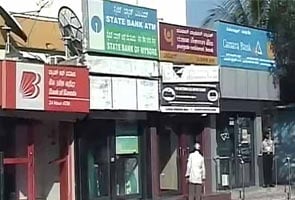 Mumbai:
To make operations of automated teller machines (ATMs) viable, the National Payments Corporation on Wednesday convened a committee of six banks to come up with suggestions around cost and charges for use of the ubiquitous machines.
"We have constituted a sub-committee of six banks which will look into the cost structure of ATM transactions, and also the reasonableness and quantum of increase in interchange charges which the customer's bank (issuing bank) pays to the ATM owning bank (acquiring bank)," NPCI chief executive A P Hota told PTI.
The sub-committee, which includes representatives from state-run lenders State Bank of India, Bank of Baroda and Punjab National Bank, and private sector lenders ICICI Bank, Axis Bank and HDFC Bank, will submit its report in a month, he said.
The decision to form the sub-committee was taken at a meeting of the steering committee having a majority of banks as members held at the NPCI office on Wednesday.
NPCI, which operates the National Financial Switch that is central to the functioning of ATMs across banks, is the convener of the committee, he said.
It can be noted that banks have been complaining about the unviability of operating ATMs, after an attack incident in Bangalore made states ask banks to deploy security guards at all the 1.30 lakh-odd ATMs round the clock.
A banks' lobby - Indian Banks Association - says additional requirements will push up cost of operating a single ATM by up to Rs 40,000 a month.
IBA has asked the Reserve Bank of India (RBI) to cap the number of free transactions to five per month across any ATM network from the current practice of giving them unlimited transactions at own bank ATMs and five at other banks' ATMs. The sixth transaction onwards, the banks typically charge a customer Rs 20 per transaction.
Banks net-off the transactions at the back-end and pay Rs 15 plus taxes for every transaction which is the interchange fees.
A host of suggestions, including increasing the interchange fees, shutting ATMs at night, making customers pay for every transaction, are being discussed at present.